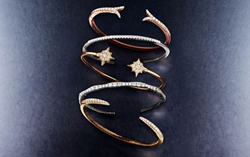 "Jewelry has the power to enhance, enliven, and empower one's look as well as one's attitude unlike any other accessory," says Rubenstein
New York City,New York (PRWEB) September 25, 2015
Gabriel & Co., the New York based fine jewelry design house, is delighted to launch on its popular website an exciting and enlightening new column "THE FACETS OF LIFE" conceived by Hal Rubenstein, Gabriel & Co.'s Global Style Director.
"Jewelry has the power to enhance, enliven, and empower one's look as well as one's attitude unlike any other accessory," says Rubenstein. "The mission of "THE FACETS OF LIFE" is to stimulate and educate our customer about how easy it is to look your best simply by following our concept of FINE JEWELRY EVERDAY."
Rubenstein is proud that "from our sensual Demure bracelets to our eye-catching Comet ear clips, Gabriel & Co.'s staggering range of product and incomparable craftsmanship radiates dynamism and joy while possessing effortless accessibility and versatility. We believe every individual deserves to be noticed wherever they are, wherever they go, and I hope that - starting with my first column "There's Life After School" - I can give the Gabriel customer the knowledge and confidence to polish their personal style, choose gifts that generate gasps of happiness and, most importantly, incorporate fine jewelry into their lives without hesitation.
In addition, this new feature will be accompanied by his "Hal's Picks of the Week" selected from all of Gabriel & Co.'s fashion collections so that no price range is excluded because Rubenstein believes "everyone with a passion for it should be able to indulge in FINE JEWELRY EVERYDAY. After all, who doesn't smile and stand just a little bit taller when they are wearing something of beauty that sparkles? "