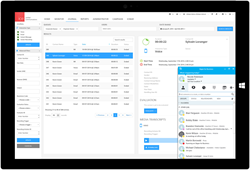 Joining the Microsoft Cloud Alliance demonstrates ComputerTalk's ongoing commitment in providing our customers with the best of the best.
Toronto, Canada (PRWEB) September 28, 2015
ComputerTalk Technology Inc., a leading provider of enterprise-class Microsoft Skype for Business (formerly Lync) native contact centers, today announced that it has joined the Microsoft Enterprise Cloud Alliance, in order to further deliver powerful cloud and hybrid contact center capabilities to its customers and partners, using the power of Microsoft technologies.
ComputerTalk brings its 28 years of experience delivering contact center solutions and its latest Intelligent Communications Exchange (ice) contact center software to the alliance, providing customers with a multi-channel contact center experience built on the Microsoft unified communications platform.
ComputerTalk's Director of Sales and Strategic Partnerships, Brandon Viamonte notes, "Being a part of the Enterprise Cloud Alliance not only brings us closer to the Microsoft customer community it will help build awareness to the Microsoft service integrator community and fill a gap in their unified communications strategy for their customers. The pairing of Skype for Business through the Skype Developer Platform and ice allows Microsoft integrators to deliver end to end unified communications and customer service solutions. Our solution is extending customer service beyond just a phone call and using the power of Skype for Business to take it to chat, video, SMS, email and social media making sure enterprises are aligned with the needs of the modern consumer".
This collaboration with Microsoft reinforces ComputerTalk's commitment to bringing the most powerful, flexible and feature-rich contact center offering to enterprise customers who are using Skype for Business on-premises or through Microsoft Office 365. The ComputerTalk software can be deployed entirely in the cloud, on-premises or in a hybrid arrangement. These options will make sure the solution fits into any technology roadmap. The ice contact center is native integration through the Skype Developer Platform on the latest version of Skype for Business and also integrates with any legacy PBX, offering customers a smooth transition path to next generation technologies and cloud-based services. According to Mandle Cheung, founder and CEO of ComputerTalk, "The cloud model and the Microsoft technology platform allows us to quickly deliver powerful, flexible and security-enhanced PCI-compliant contact center services to customers of all sizes, across all industries and all levels of government. Joining the Microsoft Cloud Alliance demonstrates ComputerTalk's ongoing commitment in providing our customers with the best of the best."
The ice contact center is an all-in-one platform that solves business challenges faced by organizations of all sizes and levels of complexity. The ComputerTalk solution unleashes the power of Microsoft Enterprise Voice integrated with the Office365 suite of products and Dynamics. It provides detailed analytics, sophisticated real time monitoring, recording, and in-depth historical reporting, enabling decision makers to create and execute strategies that will fulfill business goals and customer needs.
The ice contact center product has passed the Lync ISV Qualification Program, demonstrating compliance with enterprise-grade industry standards and the ability to work as an integrated Skype for Business native application. The ComputerTalk contact center cloud offering is Payment Card Industry Data Security Standard (PCI-DSS) compliant, offering unparalleled security for credit card information processing.
"We are excited that ComputerTalk is providing customers an enterprise-class, security-enhanced contact center option that uses the power of the cloud and Microsoft technologies of Skype for Business, SQL and Windows servers. Increasingly we are seeing customers ask for this type of solution," said Chris Lwanga, Principal Product Manager, Microsoft.
To learn more about how ComputerTalk products work with different Microsoft technologies, please visit: http://www.computer-talk.com.
About ComputerTalk:
ComputerTalk helps organizations deliver excellent customer experiences across every communications channel. Our solutions improve contact center productivity and integrate the contact center with the applications that businesses rely on to more effectively leverage their knowledge workers. Our contact center solution is an ACD and Speech IVR powered by an application designer tool. This tool empowers organizations to build custom applications that transform the way they interact with customers.
ComputerTalk, founded in 1987, is headquartered in Richmond Hill, Canada is a global provider of enterprise-class contact center products, cloud hosting services and advanced IVR applications. ComputerTalk is a Microsoft Online Service Advisor with Gold Application Development and Gold Communications competencies.