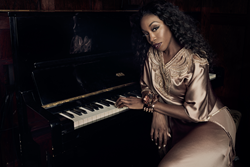 Washington, DC (PRWEB) September 25, 2015
Howard University's 92nd annual Homecoming, an entertaining cultural celebration that is anticipated and shared throughout the region, will begin on September 26th and culminate with alumni weekend, Oct. 1-4. Grammy award winner and actress Estelle will serve as the 2015 Homecoming Parade's Grand Marshal.
"This year as Howard University recognizes its commitment to supporting music education in the public schools, I am humbled and honored that Howard University would select me to serve as the Grand Marshal for the 2015 Homecoming Parade," said Estelle. "Howard University has a rich history, legacy and tradition in education and I am so excited to participate."
The homecoming celebration will feature traditional Homecoming events, such as a Fashion Show, Greek Step Show, along with an R&B Show. The week also includes a 5k Run/Walk to benefit the Howard University Hospital Diabetes Treatment Center.
October 1, 2015 at Lake Presidential Country Club the Howard University Alumni & Friends will be hosting the 2015 Homecoming Golf Classic hosted by President Frederick. On Friday and Saturday, Oct. 2-3, the Howard University family will gather for "YardFest" on the main yard and "the valley" to enjoy local vendors, cuisine, a battle of the DJ's (Friday only), games, a children's pavilion, and more. This event is free and open to the public.
Saturday, October 3rd at 10:00AM, the Homecoming Parade will feature a new route to accommodate all bands with a broader focus of music education programs in the public school system. The Showcase of the Bands will highlight fifteen (15) bands from the Washington metropolitan area as well as North Carolina, New York and New Jersey led by the Howard University Showtime Marching Band. To view the new 2015 Homecoming Parade route, visit here. After the parade, the Bison will take on the Norfolk State Spartans at 1 p.m. for the Homecoming football game in Greene Stadium.
For the full list of events, visit hereFor the full list of events, guest performers, and more information, visit here. Tickets for the week's concerts can be purchased at Cramton Auditorium, via Ticketmaster, or here. The R&B concert will feature Jazmine Sullivan and Joe at Cramton Auditorium. The Gospel concert also being held at Cramton will feature BeBe Winans, Erica Campbell, The Clark sisters, and the Winans Brothers. Tickets are available at the Cramton Auditorium box office. For more information, call Cramton Auditorium at (202) 806-7194.