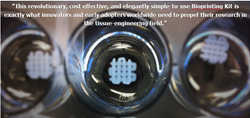 Frederick, Maryland (PRWEB) September 28, 2015
RoosterBio and CELLINK today announce a partnership to combine their complementary technologies and work together towards advancing the fields of 3D bioprinting, tissue engineering and regenerative medicine. Developments in these emerging fields are progressing at a swift pace, and the healthcare industry is clamoring to participate. To directly address crucial needs of these evolving industries, RoosterBio and CELLINK have come to market with the only commercially-available Cellular BioInk Kits. These kits combine RoosterBio's industry-leading adult human mesenchymal stem cell (hMSC) systems and CELLINK's universal bioinks with simple protocols for high-fidelity mixing and printing of living cellular constructs.
Engineering living cellular constructs has many commercial applications: to create human tissues for research, drug development and testing, and ultimately, as replacement tissues and organs for patients in critical need of a transplant. 3D bioprinting is accelerating this technology by enabling the robust and reproducible manufacture of these living cellular products with high fidelity and viability. However, 3D bioprinting requires a diverse set of technical skills and infrastructure, including 3D printing hardware, CAD software, cell-friendly biomaterials and the ability to generate large quantities of highly potent stem cells. With 3D bioprinting technologies, scientists have the potential to 3D print just about any tissue or human organ, but the industry is still young, and there is a lack of standardized products (and kits) to enable research groups to quickly get up and running with 3D bioprinting.
Optimization of a biomaterial-stem cell combination for R&D is a tedious process that can take months to years. RoosterBio and CELLINK are collaborating to launch kits that allow customers to begin bioprinting living cellular constructs within a few days, or even immediately. Until now, no commercially available, plug-and-play living cellular bioinks have been available for widespread academic and commercial use; Hence, the introduction of living Cellular Bioink Kits containing highly standardized hMSCs and polymeric hydrogels, in ready-to-use formats, that are suitable for a variety of technical applications. These products are designed for ease of use and will streamline the cellular bioprinting workflow, rapidly accelerating the path to discovery, clinical translation and commercialization of tissue engineered constructs for organ repair and regeneration.
CELLINK Co-Founder, Erik Gatenholm, said: "Innovation is no longer emerging from solo developments within one single organization. Modern innovation and the future of the medical industry is driven by collaborative efforts made by multiple players thinking outside the box. As biomaterial and Bioink experts we must therefore surround ourselves with other experts, such as RoosterBio, to complement and expand our product offerings and synchronize our efforts towards the ultimate vision: to one day reduce the shortage of supply in the organ donor market with 3D Bioprinting technologies. This revolutionary, cost effective, and elegantly simple-to-use Bioprinting Kit is exactly what innovators and early adopters worldwide need to propel their research in the tissue-engineering field. By offering a complete package of the right bioink together with the right cells we can finally establish the first standard in the bioprinting industry."
RoosterBio CEO, Jon Rowley, said: "It has long been appreciated that technological revolutions are driven by the availability of easy to use and inexpensive kits. RoosterBio's partnership with CELLINK underscores this ethos and solves multiple challenges in the emerging bioprinting marketplace. Our combined technologies will help democratize tissue engineering and 3D bioprinting technology – enabling a much larger audience to gain access to know-how that has typically taken years to establish. We are very excited for our initial products, and future products to come."
CELLINK and RoosterBio unveiled their Cellular Bioink Kits last week at the Tissue Engineering and Regenerative Medicine International Society (TERMIS) World Congress in Boston, MA to great enthusiasm from conference attendees and a flurry of social media activity. This year's TERMIS-WC saw an explosion in bioprinting posters, presentations and exhibitors, underlying the pressing need for standardized, high-fidelity living cellular bioinks to propel the field towards rapid commercial translation. The RoosterBio-CELLINK collaboration can vastly reduce the time companies and researchers spend developing printable, viable bioinks, allowing them to focus on constructing human tissues and organs to lead the regenerative medicine revolution.
About RoosterBio
RoosterBio is a privately held biofabrication tools company focused on accelerating the development of a sustainable regenerative medicine industry, one customer at a time. RoosterBio's products are high volume, affordable, and well-characterized adult human mesenchymal stem/stromal cells (hMSCs) paired with highly engineered media systems. RoosterBio has simplified and standardized how stem cells are purchased, expanded, and used in development, leading to marked time and costs savings for customers. RoosterBio's innovative products are ushering in a new era of productivity and standardization into the field, where researchers spend newly found time and money performing more high-value experiments, accelerating the road to discovery in Regenerative Medicine. For more information on RoosterBio and adult stem cells, you can visit http://www.roosterbio.com, follow on twitter (@RoosterBio), or read the highly-acclaimed blog "Democratizing Cell Technologies" (http://www.roosterbio.blogspot.com). For more information, please email Dr. Priya Baraniak at priya(at)roosterbio.com or phone 1-412-606-1160.
About CELLINK
CELLINK is the world leader in the development and offering of Bioinks for 3D Bioprinters as well as cost-effective 3D Bioprinters for innovators and early industry adopters. CELLINK offers unparalleled expertise within the development of biomaterials and tissue engineering solutions. The company's initial commercial products exploit the advantages of different biomaterial compositions in products that can be quickly introduced into Bioprinting applications. These include 3D Bioprinting and cell culturing applications that do not require FDA approval; and for which surgeons, research institutions, cosmetology experts, and pharmaceutical companies can quickly confirm the advantages. Such applications include the production of human tissue models for pharmaceutical drug discovery testing, tissue engineering research, testing of cosmetics, and pharmaceutical treatment development. For more information about CELLINK and 3D Bioprinting, visit http://www.cellink.eu, http://www.cellink3d.com, and follow on twitter (@CELLINK3D). For additional information, please email Erik Gatenholm at eg(at)aptab.se or info(at)cellink.eu