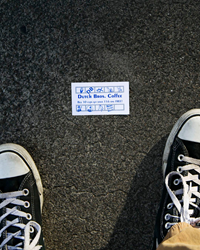 National Coffee Day allows Dutch Bros to celebrate our customers - they make each day so fun.
GRANTS PASS, Ore. (PRWEB) September 25, 2015
National Coffee Day is Tuesday, Sept. 29 and to celebrate, all Dutch Bros Coffee locations will offer customers nine of the 10-stamps needed on their loyalty cards, with every large drink purchased.
National Coffee Day is one of Dutch Bros' favorite holidays. This day allows the Dutch Bros family to provide an awesome cup of coffee, and show customers how much they are appreciated.
"Our customers are the heart of Dutch Bros," said Travis Boersma, Co-founder of Dutch Bros Coffee. "We always enjoy the opportunity to crank some tunes, have some fun and make someone's day amazing."
Every Dutch Bros location is locally owned and operated, keeping the company deeply rooted in each community. Philanthropy is a cornerstone of the company's culture and our customers and communities are key to being able to giveback.
Dutch Bros is in the relationship business and uses every opportunity to show its communities how much they are valued. Without them the company would not be where it is today. Coffee is the reason Dutch Bros is able to create lasting connections with customers and positively contribute to the communities that mean so much to the company. So on September 29, Dutch Bros celebrates the strong relationships we have built with our customers.
Find a Dutch Bros. location near you by visiting http://www.dutchbros.com/locations.
###
About Dutch Bros Coffee
Dutch Bros Coffee is the country's largest privately held, drive-thru coffee company, with over 240 locations and over 4,000 employees in seven states.
Dutch Bros serves specialty coffee, smoothies, freezes, teas and a private-label, Dutch Bros Blue Rebel™ energy drink.
The rich, proprietary coffee blend is handcrafted from start to finish. Every ingredient is measured, every process timed, and every cup perfected.
With a mission of, "Making a Difference, One Cup at a Time," Dutch Bros donates over $1 million annually to nonprofit organizations and local causes selected by local owner-operators.
Dutch Bros Coffee is headquartered in Grants Pass, Ore., where it was founded in 1992 by Dane and Travis Boersma, brothers of Dutch descent.
To learn more about Dutch Bros, visit http://www.dutchbros.com, like Dutch Bros Coffee on Facebook or follow @DutchBros on Twitter.
FOR MEDIA ONLY
Contact: Jen Wheatley, pr(at)dutchbros(dot)com, 541.226.7787