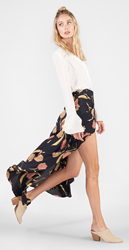 We create quality items that enhance what many women already have in their wardrobe
Los Angeles, CA (PRWEB) September 26, 2015
Between Ten announced today the showcase of their Fall 2015 Premier Line to take place Saturday September 26, 2015 at an Urban Flat rooftop terrace in Downtown Los Angeles. The event is an invite only soiree hosted by the company's founders.
Reminiscent of the height of 90's fashion, Between Ten, captures a sleek modern style for today's woman. One Tuscan Bell Sleeve Blouse coupled with the Siena floral wrap skirt bridges the gap between casual and fashionable. True to its roots, Between Ten designs and produces all garments in Downtown Los Angeles. In doing so, the company is able to have a hand in the entire process from design inception to manufacturing and to market.
"With such a large bend toward over indulgence in the fashion industry it was very important that we create quality items that enhance what many women already have in their wardrobe. I believe one great quality garment can be styled in many ways to get the most for your money. I designed these garments with my sisters in mind. All of us, ten years apart, have a very different fashion sense but if cleverly worn our line can suit any sister," said Between Ten's president, Brittany Steinmann.
About Between Ten
We are a women's clothing brand focused on designing, manufacturing, and carrying high-quality and affordable staples to enhance your wardrobe. Founded by four sisters, Between Ten was realized after years of growing up together knowing we wanted to work together, and create something for our sisters around the globe. With four completely different women at the core of our brand, we curate looks and items that are inspired by each one of our styles. Between Ten is One of a Kind, Designed in Downtown Los Angeles and Made in Downtown Los Angeles. Shop at http://www.betweenten.com
###