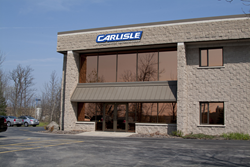 Saint Augustine, FL (PRWEB) November 03, 2015
Carlisle Interconnect Technologies (CarlisleIT) has confirmed plans to expand their manufacturing facility in Franklin, Wisconsin to accommodate its growing aerospace business. The $3 million, 30,000-square-foot expansion is expected to add an estimated 31 full-time jobs.
CarlisleIT has leased the current 48,480-square-foot facility since acquiring electrical and structural manufacturer ECS in 2009. ECS had previously occupied the facility for 23 years. CarlisleIT has just purchased the property and will begin construction in November 2015 on its 30,000-square-foot expansion to accommodate nearly $4.3 million worth of new manufacturing equipment.
"We are excited to announce the expansion of the Franklin facility, which truly is a testament to the hardworking, dedicated employees we have here. With the expansion of the building, CarlisleIT can continue to focus on designing and manufacturing innovative, high performing structures and components that the aerospace industry has come to rely on," stated John Berlin, President of CarlisleIT.
The Franklin plant is one of twelve CarlisleIT locations worldwide manufacturing high performance interconnect solutions for the commercial aerospace, military and defense electronics, industrial, test & measurement and medical industries. Core products made in the Franklin location include highly-engineered wire and cable assemblies and wire harnessing, as well as aerospace support structures, antenna adapters and doublers.
About Carlisle Interconnect Technologies
Carlisle Interconnect Technologies is one of the world's leading designers and manufacturers of high-performance wire and cable, including optical fiber. Since 1940, we have grown our product portfolio to include specialty and filtered connectors, contacts, cable assemblies, complex harnesses, racks, trays and installation kits. In addition to our vast product breadth, we provide our customers a higher level of support by offering engineering and certification services for the commercial aerospace, military and defense electronics, industrial, test & measurement, and medical industries. For more information contact Pat Cusick at Pat.Cusick(at)CarlisleIT.com or (414) 336-6378.