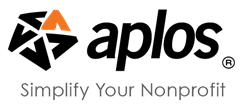 Bookkeepers can now see their financial position in less time.
Fresno, CA (PRWEB) September 28, 2015
Aplos Software, a company that specializes in online, nonprofit accounting software, unveiled its new software dashboard aimed to help users quickly monitor the health of their organization. The visual display shows users the most important metrics, financial trends with dynamic graphs, and alerts of important actions to take.
"Bookkeepers can now confidently direct their organizations with the ability to see the core financials they need at a glance, in addition to practicing strong fund accounting," said Tim Goetz, CPA, CEO of Aplos. "When it comes to accounting, convenience is key. They can now know exactly what they need to do and their financial position in less time."
The new accounting dashboard display for nonprofit and church users includes:

Financial metrics: Including cash balances, net income, amount due, amount owed, donations, and donors.
Financial trends: View cash balance, net income, and expenses over time.
Important activity: Notifications of important activity to address such as bills that are due, new donors that have given, transactions that need to be assigned.
Tutorials: New video tutorials guide new users through the software so they are prepared to do true fund accounting from the start.
These enhancements are value-added benefits to the online nonprofit accounting software that has received positive reviews from nonprofit customers and accounting industry experts. Over 7,000 organizations signed up for Aplos last year making it a major player in the nonprofit sector. Core features of the software include:

True fund accounting: User-friendly interface makes it simple for nonprofits to do true fund accounting, even without bookkeeping experience.
Automatic contribution statements: Donations are automatically tracked by donor for the accounting and one-click contribution statements.
Online donation processing: With customizable online forms, nonprofits can securely accept donations online, and have the information automatically tracked in their accounting.
Cloud convenience: Cloud-technology means sharing real-time access to the books with your accountant or other users, accessing your data from any device, and automatic backups.
Complimentary support & training: A nonprofit or church of any size can be confident they are doing their bookkeeping correctly with set-up assistance, access to Aplos Academy to develop their skills, and ongoing support.
Aplos is primarily made for organizations with an annual revenue of under $1 million that need to track donations and money devoted to designated funds, such as grants or special initiatives. Aplos also offers online donor management software so organizations can email their supporters and manage their donor database all from the same platform.
About Aplos Software
Trusted by over 20,000 organizations around the world, Aplos Software specializes in web-based software that makes it simple to manage nonprofits. The Aplos suite of nonprofit software includes Aplos Accounting, a fund accounting software; Aplos Donations, an online donation and contribution management software; Aplos Donor Relations, a nonprofit CRM and email platform; Aplos e-File, a Form 990 preparation and submission software; and Aplos Oversight, a management software for accountants or administrators to easily oversee the finances of multiple nonprofits or churches. Based in California, Aplos Software was founded in 2009. For more information, visit https://www.aplos.com or call Aplos Software at (888) 274-1316.