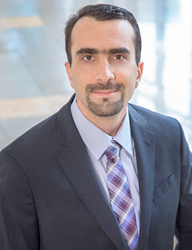 This is a significant advancement. The aim is to stop seizures before they occur. The surgery to implant the device is minimally invasive and the patient goes home the same day.
Philadelphia, PA (PRWEB) September 28, 2015
A new epilepsy treatment recently approved by the FDA is helping a 20-year-old Philadelphia man and others in the area significantly reduce the number of seizures they experience.
"I've gone as long as a week without a seizure. That's never happened since I developed epilepsy," said Christopher Davis, who lives in Northeast Philadelphia. He is among the first in the region to receive the implanted device to reduce seizures.
Dr. Zakaria Hakma, a cerebrovascular/endovascular neurosurgeon with Drexel Neurosciences Institute (DNI), implanted the device, AspireSR, which can detect an on-coming seizure and respond with stimulation to the vagus nerve. The stimulation often can prevent the seizure.
"This is a significant advancement. The aim is to stop seizures before they occur," Dr. Hakma explained. "The surgery to implant the device is minimally invasive and the patient goes home the same day."
Dr. Hakma performed the surgery at Hahnemann University Hospital, a clinical partner of DNI, shortly after the FDA approved the device in June.
Traditional vagus nerve stimulation provides regular, mild pulses of electrical energy to the brain through the vagus nerve. The AspireSR adds additional technology that detects and then responds with a boost of stimulation when heart rate changes signal an on-coming seizure.
Dr. Hakma said the device, created by Houston-based Cyberonics, is for patients who fail to improve with traditional medications. The surgery requires two small incisions, one in the neck and one in the chest. An electrode is implanted in the neck and linked to a coin-sized device that is implanted in the chest. No surgery of the brain is required.
For Christopher Davis, the treatment has improved his life. He said he experiences significantly fewer seizures. He said he was 16 and hanging out with friends when he suddenly blacked out. He woke up in an ambulance and eventually was diagnosed with epilepsy. He remained conscious during many of his subsequent seizures, which often took place three or four times a day. He graduated high school but said he has had difficulty finding a job because of his continual seizures. He needed to continually up the medications, which left him sluggish, he said.
Rather than up the dosage further, Dr. Carla LoPinto-Khoury, his neurologist at DNI, suggested the new device.
"Brain surgery for epilepsy is an option, but many people do not want to go that route. For many patients, this treatment is less daunting than brain surgery. And we see improvement without the side effects of medication," Dr. LoPinto-Khoury said.
Patients may still take medications, but can begin to reduce the dosages or number of medications. Dr. LoPinto-Khoury will continue to work closely with Davis over the coming months to adjust the stimulation from the device and his medications.
"I do think the new device will become the standard device," she said.
Davis said he cannot tell when the device sets off to halt a seizure, only that the number of seizures he experiences has declined significantly. He said he plans to enroll in community college now that he feels better. "I feel more awake and more active," he said.
Studies have shown that 82 percent of patients with epilepsy experience a rapid heart-rate increase associated with a seizure.
"We believe this device will be extremely helpful for the right patient," Dr. Hakma said.
Dr. LoPinto-Khoury said anyone with epilepsy who is not getting optimal response should not give up.
"My recommendation is that they see a neurologist who specializes in epilepsy and learn of the options available that were not available even a year or two ago," she said.
Epilepsy is the nation's fourth most common neurological disorder and one in 26 people will develop epilepsy at some point in their lifetime. Seizure medications are typically the first option for treating epilepsy. While many people with epilepsy have success with these drugs, as many as one-third of people with epilepsy experience seizures that persist in spite of treatment with medications alone.
About Drexel Neurosciences Institute
Drexel Neurosciences Institute is an innovative collaboration of Drexel University College of Medicine and Global Neurosciences Institute, LLC (GNI). The Drexel Neurosciences Institute, led by prominent neurosurgeon Erol Veznedaroglu, MD, FACS, FAANS, FAHA, provides an integrated approach to neuroscience-related clinical care, education and interdisciplinary research. The Drexel Neurosciences Institute harnesses the expertise of Drexel Medicine neurologists and researchers, who provide groundbreaking care in areas such as Alzheimer's disease and related dementias, ALS, and chronic pain, combined with the clinical expertise of GNI neurosurgeons, who are among an elite group of dual-trained vascular neurosurgeons able to perform conventional neurosurgery as well as minimally invasive endovascular neurosurgery. DNI's clinical affiliates include Hahnemann University Hospital, Aria Health, Capital Health and Lourdes Health System. For more information, visit DrexelMedicine.org
About Hahnemann University Hospital
Hahnemann University Hospital is a 496-bed academic medical center at Broad and Vine Streets in Philadelphia, Pa. The hospital is a tertiary care institution that specializes in cardiac services, heart failure, OB/GYN, orthopedics, medical, surgical and radiation oncology, bone marrow transplantation, renal dialysis and kidney/pancreas/liver transplantation. In 2009, Hahnemann earned Magnet® designation by the American Nurses Credentialing Center (ANCC) Magnet Recognition Program® and received redesignation in 2015. Hahnemann is recognized by the American Heart Association as a leader in stroke and heart failure treatments. U.S. News and World Report's 2014-15 "Best Hospital's" report named Hahnemann among the top 50 Best Hospitals in the nation for nephrology, and ranked 12 medical specialties as "high performing." The hospital performed one of the city's first kidney transplants in 1963 and one of the first bone marrow transplants in 1976. Hahnemann became Philadelphia's first Level I Regional Resource Trauma Center for adults in 1986. Hahnemann is proud to be the first hospital in Philadelphia to join with The Wellness Community of Philadelphia to offer onsite support and education services to cancer patients and their families. Hahnemann is fully accredited by the Joint Commission on the Accreditation of Healthcare Organizations, the nation's oldest and largest hospital accreditation agency. An affiliate of Drexel University College of Medicine, Hahnemann University Hospital is part of Tenet Pennsylvania, which also includes St. Christopher's Hospital for Children.