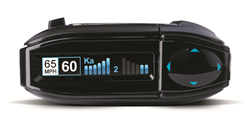 The Max 360's directional arrows show drivers where a threat is coming from – front, rear or side, and are color-coded to show the threat band – blue for "X Band," yellow for "K Band" and red for "Ka Band."
West Chester, OH (PRWEB) September 29, 2015
Escort Inc., the industry leader in radar and laser detection technology, today unveils Max 360™, its smartest, most intuitive radar and laser detector. The Max 360 features dual antenna detection technology that can detect multiple threats simultaneously and uses arrows to show drivers where a threat is coming from – front, rear or side – each time the detector alerts. The combination of dual antenna detection technology, directional arrows and Escort's GPS plus AutoLearn technology makes this detector one-of-a-kind.
The Max 360's directional arrows not only show drivers where a threat is coming from – front, rear or side, but they are also color-coded to represent the frequency of the source – blue for "X Band," yellow for "K Band" and red for "Ka Band" – and are displayed alongside the relative signal strength. Both visual and audio alerts are provided to stimulate all necessary senses, keeping drivers informed and safe while on the road.
Additionally, Max 360 utilizes GPS and Escort's AutoLearn technology to learn the nuances of most frequently traveled routes, rejecting false alerts in real time. This combination of GPS, AutoLearn technology and arrow detection has never before been incorporated into one radar detector - allowing the user an informed yet quiet driving experience with minimal interruptions. The Max 360 also leverages Escort's proprietary Defender Database to flag upcoming stationary threats like red light cameras and known air patrol and speed traps to help drivers make informed, safe decisions.
The Max 360 is also compatible with Escort's award-winning app, Escort Live, which displays the current posted speed limit alongside the vehicle's current speed. Escort Live! connects drivers with every other Escort Live! user, turbocharging road awareness by incorporating crowdsourced alerts from detectors and app users on the road ahead.
"While many in-car devices serve to distract drivers from the road, the Max 360 is a non-intrusive device that helps drivers stay focused on the road and their immediate surroundings," says David Thornhill, CEO, Escort Inc. "As the industry leader in this space we feel obligated to lead the way in developing technology that is innovative, useful and smart. We feel that we've really hit the mark with the Max 360 and we're offering a ticket protection guarantee to back it up."
A built-in USB port allows the Max 360 to continue to get smarter over time with easy firmware and Database updates. A new magnetic mount feature makes set-up simple and efficient.
The Max 360 is priced at $649.95 and for a limited time, when purchased factory-direct, the Max 360 comes with a ticket protection guarantee, a first for an Escort windshield-mounted detector. Visit http://www.escortradar.com or call 866.709.8744 for details.
About Escort Inc.
Escort is the leading manufacturer of high-performance radar and laser detectors and the patented Escort Live™ real-time ticket protection network. Escort manufactures products under the Escort, Passport, Max, Redline, Solo, Pro and Beltronics brands. The company is headquartered in West Chester, Ohio, with its principal manufacturing facility located in Mississauga, Ontario, Canada. Additional information about Escort, Inc. is available at escortradar.com.