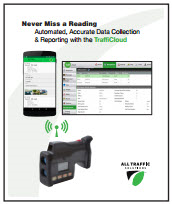 All Traffic Solutions has implemented user feedback and information we've learned from years of providing connected product services into the new TraffiCloud, resulting in easier start-up and more efficient usage." Ted Graef, ATS President
State College, PA (PRWEB) September 29, 2015
All Traffic Solutions announced the release of the totally enhanced TraffiCloud. More than 14,000 public safety professionals and sworn officers will have the opportunity to learn more about All Traffic's line of 100% cloud-based traffic safety equipment and see a live TraffiCloud demonstration at Booth #3811 at the IACP Conference being held at McCormick Place in Chicago, IL from October 25th – 27th.
All Traffic's best-in-class hardware helps improve traffic flows, and enhancing this equipment with TraffiCloud improves workflows and results in Total Traffic Safety Management. Leveraging a consistent interface across every subscribed component including radar speed and variable message displays, DragonEye Lidar and StatTrak Traffic Data Collection, the ATS TraffiCloud provides a new level of awareness while reducing the amount of time needed to manage the equipment and information.
The TraffiCloud Web-based Management Service is valuable to anyone looking to do more with less. Agencies challenged by complicated technology or wanting to consolidate the way they manage their tools and information will appreciate the TraffiCloud capabilities including the ability to:

Manage equipment settings remotely from any Internet-connected device
Visualize and map an entire traffic management program on an interactive map
Create, deploy and share messages based on live data
Automatically view data on your desktop and eliminate data file management
Simply generate and share detailed reports anywhere at anytime
Receive email or text alerts for low batteries, high speeds, tampering, congestion and more
View images related to alert thresholds, or generate awareness images based on a preset frequency
Optimize enforcement speed captures and increase citation accuracy
Provide new analysis and metrics for end-to-end traffic management
Benefit from a perpetual warranty on equipment that remains subscribed to the TraffiCloud
"All Traffic Solutions has implemented user feedback and information we've learned from years of providing connected product services into the new TraffiCloud, resulting in easier start-up and more efficient user experience", explained Ted Graef, President of All Traffic Solutions. Improvements such as a user-friendly dashboard for quick updates on critical information, the ability to view multiple reports at one time, role-based permissions and tags to help group equipment and sites by officer, neighborhood or by specific equipment.
As TraffiCloud continues to merge the best specialty tools of complementary traffic management equipment, customers will enhance their products ongoing value by leveraging this industry leading connected-product platform.
About All Traffic Solutions
All Traffic Solutions is consistently recognized as a leading innovator in the traffic safety market for speed displays, message signs, imaging products and intelligent transportation systems, delivering groundbreaking levels of service and product capability. By integrating cloud technology into all of its products, All Traffic Solutions allows customers to manage all their equipment and data remotely, through a browser resulting in better traffic safety outcomes and initiatives related to vehicle-to-infrastructure solutions and smart cities. For more information, visit http://www.AllTrafficSolutions.com.