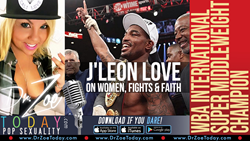 "Me & Chyna... We were never dating... I'm single. I've been single for three years." J'Leon Love on Dr. Zoe Today
New York, NY (PRWEB) September 25, 2015
A lot of stories have been in the media surrounding WBA International Super Middleweight Champion J'Leon Love's personal life... the majority of which are not true. J'Leon cleared things up Thursday night on the infamous Dr. Zoe Today Show, well known for exclusive drops from their celebrity guests.
Ask anyone who's a J'Leon Love or Blac Chyna fan or media outlets such as TMZ and they would tell you the two of them recently broke up and were in a relationship for about 4 months. Some say Chyna was subliminally dissing Love in an Instagram post with the caption "I hate a fake freak". In reality, this is just one of many examples of media and fans running with ideas based on little to no fact.
Here is J'Leon's account of the situation he gave during the interview:
"Me and Chyna, we cool as hell. That's my homegirl. No shade ever. A lot of shade that people think she's throwing at me is not at me. We hit each other up all the time. We're just friends. We were just crushin' a lot, we never was physical, yes because I was honoring a holiday that's very important to my life and Muslims all around. And from there we just kept a friendship." he continued stating what would shock all fans, "Yo, I just met her Memorial Day weekend. We met up, took a couple pictures, made a couple videos, and that's how it went. We were never dating... I'm single. I've been single for three years."
When Dr. Zoe asked what he was looking for in a woman he said "It's all about being genuine and loyal. I want one wife and I want to be married one time and I want to have a family."
Another controversy surrounding Mr. Love was when he posted a WCW post about Chris Brown's ex, Karrueche Tran and a tweet saying he'd like to take her out to dinner. Fans and media went crazy and when he deleted the posts, it was assumed he was threatened by Chris Brown. "Honestly I have no relationship with any of them. I saw a girl who I thought was very. very pretty and very attractive so I just did what I did. I wasn't trying to disrespect nobody, I wasn't trying to get any boost off of it. I was just being me. I didn't think what I said was going to be taken and ran with. She never reached out to me, I never got to her or anything like that. It was nothing. I just took it down because I was like man I didn't know it was gonna go like that... I never knew it was going to get that much attention."
Love also discussed his relationship with Floyd Mayweather Jr., how his boxing career started and modeling with Kate Moss, saying "I thought she was just a white lady coming down to our boxing gym".
An interview like this has never been heard with the boxing champ and chances are there won't be another. J'Leon admits "In public I really don't speak at all. I'm the quiet person, I just sit back and observe."
Boxing fans can catch J'Leon love at his next match against Osumana Adama September 29th on Fox Sports 1 at 9pm EST/6pm PST.
The Dr. Zoe Today interview will be featured the entire week following the initial air time at will continue to be available in the show archives. Those looking to listen can tune in via the free "Dr. Zoe Today" app available on the App Store and Google Play or at the show's website DrZoeToday.com