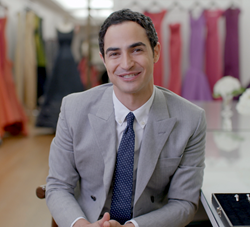 TRULY is my love note to a bride on her most beautiful day.
Kansas City, Missouri (PRWEB) October 05, 2015
Helzberg Diamonds presents Truly Zac Posen, a new collection of wedding jewelry from designer Zac Posen. Known for taking what is classic and elegant and giving it a contemporary flair, the world-renowned designer now brings this same approach to a sophisticated collection of engagement rings and wedding bands.
"This fashion-forward collection redefines today's style and offers women everywhere access to luxurious designer wedding jewelry." said Beryl Raff, Chairman and CEO of Helzberg Diamonds.
The artisanal collection of designs features classic, art deco and modern looks, each set with a signature yellow gold finger rest inside the shank of the engagement ring. Each ring coordinates with a matching band to complete the look. This collection is designed for the bride who desires the perfect mix of modern American glamour and timeless, romantic femininity.
"I'm excited to be introducing my Truly Zac Posen Collection for Helzberg Diamonds. Truly is my love note to a bride on her most beautiful day. Here's to love!" said Zac Posen, Designer.
See the collection on helzberg.com or visit one of our Helzberg stores nationwide.
About Helzberg Diamonds
Helzberg Diamonds®, a retail and online jewelry store focused on customer service, was founded in 1915 and has more than 230 stores nationwide, featuring a wide selection of fine jewelry, including diamond engagement and wedding rings, precious gems and watches. Helzberg Diamonds takes pride in its history of offering exceptional value, exclusive designs and timeless jewelry. Helzberg Diamonds is based in North Kansas City, Mo., and is a subsidiary of Berkshire Hathaway Inc. (NYSE symbols BRK/A and BRK/B). For the locations nearest you, call 1-800-HELZBERG (800-435-9237) or visit Helzberg.com.
About Zac Posen
A fixture on the New York fashion scene since 2001, Zac Posen is known globally for designing with bold sophistication, sexy femininity and distinctive glamour. His dresses are treasured by luminaries such as Katie Holmes, Naomi Watts, Rihanna and First Lady Michelle Obama. Today, he serves alongside Heidi Klum as a judge on Lifetime's Project Runway, now entering its fourteenth season.