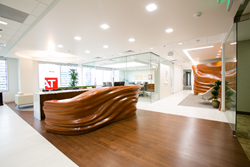 "We're looking forward to experiencing new efficiencies in this space, and having more attorneys to support our clients."
Denver (PRWEB) September 28, 2015
Increased number of attorneys will support clients nationally
Armstrong Teasdale announces that the firm's Denver office has relocated to the eighth floor of the Regency Plaza, Class A office space in the Denver Technological Center, to accommodate the firm's growth and additional attorneys. The Tech Center is located in Southeast Denver and is home to numerous other law firm offices and a wide range of industries. Armstrong Teasdale opened its Denver office in Oct. 2014, with the combination of Steese Evans & Frankel P.C.
"We're looking forward to experiencing new efficiencies in this space, and having more attorneys to support our clients," said Chuck Steese, partner and co-managing attorney in the Denver office. "Our varied experience will lend well to the needs of the dynamic Denver market."
Open and inviting, the new 14,183-square-foot space at 4643 South Ulster Street mirrors the look and feel of other Armstrong Teasdale offices with key visual elements such as "wavy walls" made of molded sustainable wood, red accents, contemporary artwork and use of natural light. The space will house 23 attorneys and a conference center.
Based on current hiring plans, 19 of the 23 offices will be filled by the end of 2015, further contributing to growth in the local job market.
"I'm excited to share this fresh space with our clients and better assist them, and glad we now have even more room and resources to grow in 2016 and beyond," said Kevin Evans, partner and co-managing attorney in the Denver office.
Armstrong Teasdale's Denver attorneys have experience in complex litigation, higher education, intellectual property, telecommunications, white-collar criminal defense and internal investigations.
The Denver office was previously located at Plaza Tower One, 6400 South Fiddlers Green Circle in Greenwood Village.
To learn more about Armstrong Teasdale services and the Denver office, visit http://www.armstrongteasdale.com.
About Armstrong Teasdale: With 230 lawyers in offices across the United States and China, Armstrong Teasdale LLP has a demonstrable track record of delivering sophisticated legal advice and exceptional service to a dynamic client base. Whether an issue is local or global, practice area specific or industry related, Armstrong Teasdale provides each client with an invaluable combination of legal resources and practical advice in nearly every area of law. The firm is a member of Lex Mundi, a global association of 160 independent law firms with locations in more than 100 countries, and the United States Law Firm Group, a network of 18 law firms headquartered in major U.S. cities. Armstrong Teasdale is listed in the Am Law 200, published by The American Lawyer, and the NLJ 250, published by The National Law Journal. For more information, please visit http://www.armstrongteasdale.com.
###