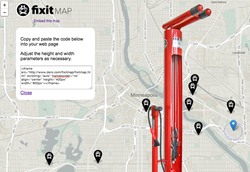 By creating this map, we hope it will help bicyclists to find a Fixit when they're in a pinch. We want people to be able get home or to a bike shop safely
Minneapolis, MN (PRWEB) September 28, 2015
Dero introduces its crowdsourced Fixit map, featuring over 700 public bike repair stations from around the world, with new stations added daily. Cities, regional parks, universities, and bicycle advocacy groups can now embed this map in their bicycle resources webpage to share with their residents and members. "By creating this map, we hope it will help bicyclists to find a Fixit when they're in a pinch. We want people to be able get home or to a bike shop safely," expressed map creator Colin Klotzbach, designer at Dero.
For the past year, Dero has been collecting coordinates for Fixits in the public realm. QR code scans on the Fixit alert Dero to possible installations and they are then verified through press releases or social media posts. Helpful customers and cyclists also send in locations of repair stations. The Fixit map continues to grow as the popularity of bicycling around the world increases. Currently, Dero Fixits can be found in Australia, Canada, Denmark, Netherlands, New Zealand, Norway, Switzerland, United Kingdom, and United States, including Puerto Rico.
The Dero Fixit public bike repair station is the perfect amenity for people who bike. It includes all the tools necessary to perform basic bike repairs and maintenance, from changing a flat to adjusting brakes and derailleurs. The tools and air pump are securely attached to the stand with stainless steel cables and tamper-proof fasteners. Hanging the bike from the hanger arms allows the pedals and wheels to spin freely while making adjustments. The pump hoses on the Air Kits are made of rubber and wire mesh for added durability.
To view Dero's Fixit map, visit http://www.dero.com/fixitmap/fixitmap.html. If a Fixit is misplaced or missing from the map, please contact us via http://www.dero.com/contact.
ABOUT DERO
Since 1995, Dero has been supplying innovative bike parking and bicycle transit solutions to architects, contractors, municipalities, higher education, and parks and rec. Its bike racks, repair stands and pumps, shelters, and lockers are high quality, thoughtfully designed and secure. Dero also offers the award-winning Dero ZAP, an automatic system to track bike commuters. Dero headquarters is located in Minneapolis and is proud to support biking locally and nationally.