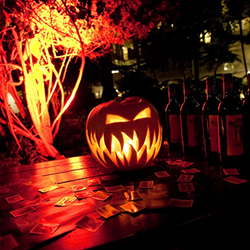 Guests progress to the haunted Crown Room at Hotel del Coronado for desserts at the ultimate Halloween party, with freaky favorites from a top DJ, photo booth, cash bar, costume contest and more.
Coronado, CA (PRWEB) September 28, 2015
World-renowned for its 127-year history of hosting celebrities, presidents and dignitaries from around the world, Hotel del Coronado is almost equally famous for its ghostly visitors. Though supernatural stories abound, most have to do with Kate Morgan, a beautiful young woman who checked into the hotel in 1892 – and never checked out. What better location than here – San Diego's most haunted hotel – to spend the spookiest night of the year.
From 7pm to 9pm, guests and locals will mix and mingle in the 'Witches & Warlocks' themed Garden Patio. The festivities include adult trick-or-treating, wine sampling and dinner at a variety of food stations, along with plenty of spirits of all kinds (make sure to keep an eye out for an appearance from Kate Morgan herself.)
At 9pm, guests progress to the haunted Crown Room for desserts at the ultimate Halloween party, with freaky favorites from a top DJ, photo booth, cash bar, costume contest and more. The crowned costume winner from our celebrity judge includes a two-night stay at The Del with dinner for two at Sheerwater. The contest will take place at 10pm.
View Video from the 2014 Hallo-wine & Spirits Party
Hotel del Coronado's Hallo-wine and Spirits Party will be held from 7pm to 12am on Friday, October 30 for $125 per person if purchased before October 1. On October 1st, tickets go up to $150 (includes tax and gratuity). Guests must be 21+ to attend.
A special Halloween-themed Kid's Party will be available for children ages 4 to 12 at a cost of $50 per child.
Reservations for Hallo-wine can be made by calling at 619-522-8490 or visiting our events page.
Ghost Roast
From October 26 – November 1st, The Del's private beach bonfire turns spooky with 'Ghost Roast', a Halloween-themed twist the resort's signature Roast experience. For an additional $50, guests will enjoy holiday treats like pumpkin Peeps, gourmet Halloween marshmallows, special chocolates and candy corn, along with a visit from Kate Morgan herself, telling her tragic story from The Del's book 'Beautiful Stranger,' available for purchase here.
About Hotel del Coronado:
Poised oceanfront on one of America's best beaches, the majestic Hotel Del Coronado and private Beach Village enclave welcomes travelers from around the world. Today, this ever-evolving beach resort engages the senses and captivates the imagination with freshly designed interiors and contemporary amenities, blending perfectly with the resort's legendary style. Known for creating inDELible memories and engaging experiences with endless recreational activities, an award-winning spa, and oceanfront dining, this world-renowned San Diego resort seamlessly connects her storied past with today's Southern California coastal lifestyle.