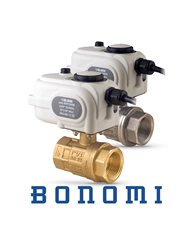 The new actuators are available as separate components or on single-number automated valve packages.
CHARLOTTE, N.C. (PRWEB) September 29, 2015
The new Valbia® VB008 "Mini" quarter-turn direct-mount electric actuator measures just 4-3/4" long X 2-3/4" wide. Used with 1/4" to 1-1/4" full-port direct mount ball valves, it provides the most compact and reliable automatic flow control for a wide range of HVAC, light industrial, and OEM applications.
VB008 mini actuators feature an F-03/05 pattern ISO-5211 direct mount flange and square shaft slot for easy direct mount installation. The standard 110 VAC motor with Class II insulation meets CE standards and delivers 71 in/lbs. of torque in horizontal or vertical installations.
A manual override, heater/thermostat, and LED indicator light are standard. The waterproof IP 65 housing of the VB008 is constructed of flame-resistant plastic with O-ring seals at critical points.
Options include 24VAC operation and three-point or modulating control. The new actuators are available as separate components or on single-number automated valve packages with Bonomi ball valves.
Space-saving VB008 electric actuators can be used in water treatment, irrigation, fire protection, leak detection and prevention systems, food and beverage processing, smart home systems and other commercial or light industrial applications. They offer a cost-saving alternative to solenoid valves in some situations.
About Bonomi
Bonomi North America has served the U.S. and Canada since 2003 and is part of the Bonomi Group of Brescia, Italy. Bonomi Group brands include Rubinetterie Bresciane Bonomi (RB) brass ball valves and check valves; Valpres carbon and stainless steel ball valves; and Valbia pneumatic and electric industrial actuators. Bonomi North America maintains an extensive distribution network for these products from its headquarters in Charlotte, N.C. and a facility in Oakville, Ontario, Canada.
For more information on Bonomi's Valbia® VB008 mini actuators or other Bonomi products, contact Bonomi North America at (704) 412-9031 or visit http://www.bonominorthamerica.com.