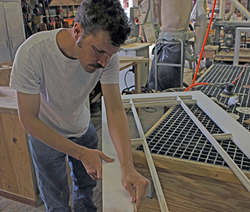 "Since he began working, Mark's whole life has changed."
Orange City, FL (PRWEB) October 08, 2015
Bipolar disorder, also known as manic-depressive illness, is a brain disorder that causes unusual shifts in a person's mood, energy, and ability to function. Mark Carstens, who has bipolar disorder and a learning disability, came to Vocational Rehabilitation (VR), a state agency that helps people with disabilities get or keep a job, with a dream and a bachelor's degree in Historic Preservation.
He was a somewhat unusual VR customer given the fact that he knew exactly what he wanted to do for his job goal. Mark has a passion for restoring historic landmarks. He wanted to return historic buildings to what they were in their heyday.
Mark had been networking with Florida's historic preservation community, meeting people who understood his passion. He volunteered with various organizations. He also attended historic preservation conventions in order to meet others in the field and gain valuable information.
Although Mark had no "hidden agenda," just a passion for historic preservation, some preservationists mistakenly interpreted his actions as being aggressive and pushy. He had unknowingly erected obstacles to his dream. That's when he realized he needed VR's assistance. He met with his VR Counselor, Jennilyn Green, who offered guidance and counseling along with mental health support. She paired him with Employment Specialist, Sandra Wilson, with Progressive Abilities Support Services, to help him find a job in historic preservation.
Sandra worked with Mark on updating his resume and his interviewing skills so he would present himself better to others. Mark told Sandra that his dream job would be to work for local business owner, Jodi Rubin, a who's who in Florida's historic preservation community.
When Sandra first contacted Jodi about the possibility of Mark working for CCS Restoration, she was hesitant. She knew exactly who Mark was, and he had not made the best impression on her the first time they met. Sandra explained to Jodi that she had been working with Mark, and that she would be there to assist in any way needed. Jodi, Sandra, and Rob Register, the shop manager, finalized the accommodations, and Mark joined the crew CCS Restoration.
Since he began working for CCS Restoration in July 2014, Mark's whole life has changed, and he continues to thrive at work. Jodi and Rob have only glowing remarks to share about Mark's work ethic.
Despite their initial doubts, Jodi and Rob are now happy they gave Mark a chance. Mark is an asset to the company and every day he learns valuable skills, both personally and professionally, from his supervisors and co-workers. He has much work to do in order to learn and refine his skills, but he is well on his way to making his mark in the historic preservation field.
Jodi says, "When Mark came to us he lacked finesse. This is something we have taught him and a skill he has gained. Thank you for bringing him to us." Mark's story shows that it can be a good business decision to hire persons with disabilities.
About Vocational Rehabilitation
Florida's Vocational Rehabilitation (VR) is a federal-state program committed to helping people with disabilities become part of America's workforce. The employer-focused website, https://abilitieswork.employflorida.com/, allows businesses to search at no charge for employees who are ready to go to work, as well as to post available jobs. VR has 90 offices across Florida, and last year helped 5,760 Floridians with significant disabilities find or keep a job. For more information about VR and its services, call (800) 451-4327 or visit http://www.Rehabworks.org.