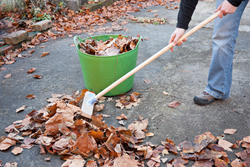 LINCOLN, R.I. (PRWEB) September 28, 2015
Falling can have a serious effect on quality of life and independence for older adults. In fact, every 13 seconds, an older adult is treated in the emergency room for a fall, according to the National Council on Aging (NCOA). As part of Fall Prevention Awareness Week, Amica Insurance is offering tips to increase safety and reduce the chances of falling in or around the home.
Many falls are preventable, and the NCOA says that falling is not an inevitable result of aging. Amica is sharing the following tips from StopFalls.org:

Keep stairs, hallways and sidewalks clear by removing objects that could lead to tripping.
Be aware of uneven surfaces, such as doorways or the areas between carpeting and tile. Remove throw rugs, or use a rug pad with gripping to secure them.
Keep frequently used items within reach, such as kitchen and cooking supplies.
Install bright lights, have light switches at both ends of stairways, and use night lights or light switches that glow.
Bathrooms can be one of the most dangerous rooms in the house, especially when things are wet. Put grab bars near the toilet and in the shower, in addition to non-skid strips in the bathtub.
Install handrails on both sides of the stairs, and make sure they are secure.
About Amica Insurance
Amica Mutual Insurance Co., the nation's oldest mutual insurer of automobiles, was founded in 1907. The company, based in Lincoln, Rhode Island, is a national writer of auto, home, marine and umbrella insurance. Life coverage is available through Amica Life Insurance Company, a wholly owned subsidiary. Amica employs more than 3,400 people in 44 offices across the country. For more information, visit Amica.com.
Media inquiries can be sent to MediaCenter(at)amica.com.
Twitter: Amica
Facebook: Amica Mutual Insurance Co.