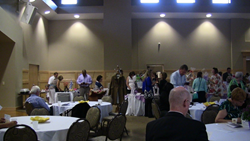 Akron, OH (PRWEB) September 25, 2015
Mature Services' 12th Annual "The Melting Pot ~ A Taste of Many Nations," held September 10th, was a smashing success.
Featuring an ethnic food tasting, awards were given to winners chosen by the culinary judges comprised of Summit County Common Pleas Court Judge, Tom Teodosio, Director of the Institute for Life-Span Development and Gerontology, Harvey Sterns, Ph. D. and Akron Beacon Journal Food Notes columnist and business writer, Katie Byard.
Aladdin's Eatery in Fairlawn won the Best Presentation Award, TLC Catering took home the Best Tasting prize. North End Market was the big winner of the night, winning the Most Original Award and People's Choice Award.
"We are so thankful for our great sponsors, including County of Summit ADM Board, Employee Benefits International, Buckingham, Doolittle & Burroughs, LLC, Dominion, Brennan, Manna & Diamond, SummaCare, Bober Markey and Fedorovich," said Megan Taylor, Co-Manager of Mature Services' Marketing department.
Mature Services provides high-quality programs to empower the economic, social, physical, and mental well-being of adults as they age. Programs include homecare, integrated mental health counseling and addiction prevention and treatment, job training, home delivered and congregate meals, volunteer opportunities and an emergency food pantry.