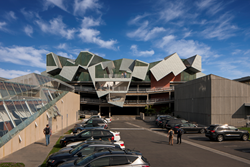 Culver City, CA (PRWEB) September 28, 2015
Omelet (omeletla.com), an LA-based creative company, is proud to announce its official move into the highly anticipated "Pterodactyl," brand new headquarters located in Culver City's Hayden Tract District within Frederick and Laurie Samitaur Smith's Conjunctive Points development. The newly constructed building – which is settled amongst major LA players like Beats By Dre, Nike, and SmashBox – was designed by Eric Owen Moss Architects and built by Samitaur Constructs. Prior to its full completion, the building received recognition by the American Institute of Architects, Los Angeles as the "Best Unbuilt Architecture."
"What can I say? This building is badass," said Ryan Fey, Co-Founder and Chief Brand Officer. "It's an honor to have been chosen by the Samitaur Smith's to occupy the Ptero -- an incredible space designed by Eric Owen Moss Architects. We're all here to shake things up and break some eggs – which is why Omelet was the perfect choice for this incredibly iconic and unique structure."
Originally designed more than a decade ago, the Pterodactyl boasts 460 pieces of custom cut glass with unprecedented solar control, which allows natural light to fill the interior. The exterior is clad in 22,300 square feet of Rheinzink metal panels – a zinc based metal, which will patina over time. Perched on top of a four-story parking structure with striking views of LA's metropolitan area, the building is flanked by two large outdoor patios complete with a custom BBQ island and employee herb garden, and an outdoor seating area spilling two stories down over the entry to the parking garage.
Omelet partnered with Gensler, the 50-year-old, leading global design firm, to design the Pterodactyl's décor and interior branding which embodies the company's Rise & Shine philosophy – the belief that every day is a chance to wake up to new ideas. That notion is reflected in everything from the furniture, reclaimed pieces, custom bar and kitchen area, along with the employee game room appropriately named "Bacon." Omelet also partnered with Tangram Interiors to design the employee workstations into the geometry of the space.
"Ryan Fey and his team are the quintessential Pterodactyl tenants and I can't conceive of a better fit. Walking through the space at 8:00 am or 8:00 pm Monday through Sunday suggests Omelet's group has invented an entirely new contemporary work environment," said Eric Owen Moss. "From packed conference rooms to jammed gatherings inside and out, it's a fascinating hybrid of private and group work, intense and casual gatherings that use every interior and exterior inch as platforms for innovation. Is it possible they're having too much fun?"
Eric Owen Moss Architects' involvement with Samitaur Constructs began in 1986 with the renovation of a neglected building in Culver City's former industrial area. That collaboration has had an incredible impact on the face of the City.
News of Omelet's big move comes on the heels of more than three years of incredible growth. Since the end of 2011, the agency's client roster has grown more than 500% and includes brands like AT&T, Guild Guitars, HBO, and Microsoft.
Omelet also recently debuted License to Operate, its first feature-length documentary about ex-gang leaders turned street saviors, at the Seattle International Film Festival.
About Omelet:
Omelet is a creative company that solves complex marketing problems for progressive partners, including AT&T, HBO, Microsoft, and Walmart. The company also has divisions – including Omelet Studio, Omelet To Go, and Omelet Brands – to create original brand programming, live interactive experiences, and original owned intellectual property. http://www.omeletla.com
Contact:
Devin Desjarlais
Omelet Director of Communications
devin[dot]desjarlais[at]omeletla[dot]com
424-672-8606