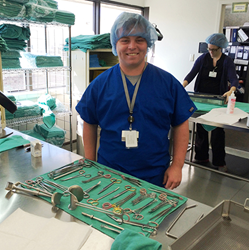 Project SEACH is a full immersion experience. It's like we moved the classroom to a job site.
Melbourne, FL (PRWEB) October 20, 2015
Florida Project SEARCH recently achieved a new milestone in job placement – six host sites in Florida have reached a 100 percent employment rate. Every intern trained at the City of Hialeah, Holmes Regional Hospital, Cape Canaveral Hospital, Rosen Shingle Creek, Florida Hospital-Winter Park, and Florida Hospital-Orlando during the 2014-2015 school year has been able to find a job after completing the program.
Project SEARCH is a unique program designed to help students with developmental disabilities successfully transition from high school to the workforce. Over the course of a year, students have the chance to participate in targeted internships hosted at job sites across the state of Florida. With the assistance of a teacher, job coach, and site supervisor, Project SEARCH students gain hands-on experience in a professional setting.
"Project SEACH is a full immersion experience. It's like we moved the classroom to a job site," says Florida Project SEARCH Coordinator Beth Romans-Corsi. "The program involves extensive periods of training, exploration, and long term coaching from teachers, job coaches, and employers. Our end goal is for students with significant disabilities to be in complex and rewarding jobs."
Florida Project SEARCH leads the nation with 21 sites, the highest number of sites of any state, and approximately 160 youth served in the program for the 2013-14 school year. It also boasts an impressive 70% or higher employment rate for participants.
After completing the Project SEARCH program in December 2014, Alex Boullion, who has speech and learning disabilities, began working in the central services department at Holmes Regional Hospital in Melbourne within the month. "Project SEARCH was really beneficial," says Alex. "The teachers and counselors saw my inner talents and helped me succeed."
Maria Trieste, Project SEACH supervisor for Holmes Regional Hospital and Cape Canaveral Hospital, says that teamwork is an important component of the program. "A lot of the success has to do with a large team circling around the students and assessing their strengths," says Maria. "We work as a team to improve the students' skills, and the focus is always on employment."
For Vocational Rehabilitation Counselor Lynda Schuchert, who has worked with many students in the program, Project SEARCH has found success because it gives people with disabilities the chance to prove themselves on the job. "The staff at the job site has been impressed with the students," she says. "They first expected that the students would just do volunteer work, but the students learned real skills during their internships and showed what they can do."
The program not only lets the students demonstrate their capabilities, it also gives employers the chance to work with people with disabilities. Many job sites that host interns find it to be a positive experience, and some, like the City of Hialeah, even go on to hire students after they complete the program.
"We are fortunate to have several Project Search graduates currently working at various departments at City Hall," says Mayor Carlos Hernandez. "The students have truly been an inspiration to me, and I encourage businesses to become more aware of the benefits received when hiring someone with intellectual or developmental disabilities. I always say that we learn as much from them as they do from us."
With new job sites and school districts expressing an interest in the program, Project SEARCH is likely to grow in the years ahead, helping to make lifelong employees of more students like Alex Boullion.
"I'm going to stay in my job for a long time," says Alex. "I'm happy here. I don't want to go anywhere."
About Vocational Rehabilitation
Florida's Vocational Rehabilitation (VR) is a federal-state program committed to helping people with disabilities become part of America's workforce. The employer-focused website, https://abilitieswork.employflorida.com/, allows businesses to search at no charge for employees who are ready to go to work, as well as to post available jobs. VR has 90 offices across Florida, and last year helped 5,760 Floridians with significant disabilities find or keep a job. For more information about VR and its services, call (800) 451-4327 or visit http://www.Rehabworks.org.