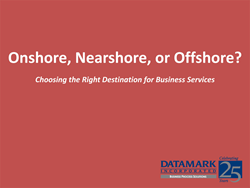 El Paso, Texas (PRWEB) September 28, 2015
When outsourcing business processes such as mailroom operations, data entry or document processing to a specialist service provider, a decision needs to be made where to locate the process. Organizations can keep the process onshore, in the U.S.; nearshore, in Mexico or Canada; or offshore, to destinations such as India, China or the Philippines.
But how do you weigh the benefits and risks of these destinations? Which location is best for the organization?
To offer guidance on these important questions, DATAMARK, Inc. has released a new video focusing on the location decision and its role in business process outsourcing (BPO).
DATAMARK is a leading provider of business process solutions, including outsourced contact center services for Fortune 500 companies and other large enterprises.
The new video, "Onshore, Nearshore or Offshore? Choosing the Right Destination for Outsourced Business Services," is only five minutes long and focuses on the following topics:

The characteristics of each location
The benefits and risks of each location
Links to resources for more information
The video, hosted on YouTube, is available on DATAMARK's web site at this link:
http://www.datamark.net/resources/videos/onshore-nearshore-or-offshore-choosing-the-right-destination-for-outsourced-business-services
About DATAMARK
Celebrating its 25th year in business in 2015, DATAMARK, Inc. is a leading business process outsourcing company specializing in high-volume digital mailroom management, document processing/document management, bilingual (English/Spanish) contact centers and process improvement consulting for Fortune 500 companies and other large enterprises.
Headquartered in El Paso, Texas, DATAMARK employs nearly 2,200 people in its U.S., Mexico and India facilities. For more information, visit http://www.datamark.net. Follow industry news and trends on our blogs, Outsourcing Insights at http://www.datamark.net/blog and Call Center Insights at http://www.datamark.net/call-centers/blog.