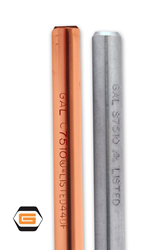 Galvan's selection of US-made solid stainless and solid copper ground rods is among the industry's largest.
HARRISBURG, N.C. (PRWEB) October 01, 2015
Critical infrastructure such as water treatment plants, electrical substations and information and telecommunications systems are essential to our national security, the economy and public health. Galvan's new solid stainless steel and solid copper "specialty" ground rods provide long-term, reliable grounding protection for vital equipment and personnel safety, combined with lower life-cycle cost, especially in corrosive soils.
Galvan's selection of US-made solid stainless and solid copper ground rods is among the industry's largest. Galvan now offers 11 different sizes of regular unthreaded stainless steel ground rods and nine models of sectional threaded stainless steel rods. Eight different sizes of solid copper Galvan ground rods are available.
Stainless steel rods are available in both 304 and 316 stainless steel, with 304 being the most common. Galvan's solid copper ground rods are manufactured from solid C11000 copper.
While their initial costs are higher than galvanized or copper-coated rods, the longer life expectancy of solid stainless steel or copper rods makes critical systems more dependable and creates savings through lower replacement costs, particularly in corrosive soils. Soil conditions are a critical factor in rod selection. In corrosive soils, solid stainless steel or solid copper ground rods offer greater protection than either copper coated or galvanized steel rods.
The new 8-foot and 10-foot solid copper and solid stainless steel rods are UL or CSA listed to ensure consistent quality and safety. They are permanently stamped on the drive end for traceability, a requirement of the Rural Utilities Service (RUS). The visible listing mark also proves the rods were manufactured in compliance with all applicable code specifications, including diameter and length, simplifying inspection in the field.
About Galvan
Galvan Industries, Inc. has been a trusted supplier to the electrical, electronic and utility industries for more than five decades. Galvan electrical products are used in residential, commercial and industrial applications, including construction, cable TV, lightning protection, power transmission and telecommunications. They are available from leading electrical wholesalers and distributors throughout the United States.
For more information, call 1-800-277-5678; fax 704-455-5215; email sales(at)galvanelectrical(dot)com or visit Galvan on the Web at http://www.galvanelectrical.com.
END