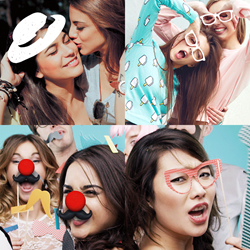 lollicam is a fun and easy video & GIF maker with innovative face-tracking stickers and cinematic effects.
(PRWEB) October 01, 2015
Since its debut last May on the Google Play Store, the Android version of lollicam gathered more than 800,000 global downloads within four months. Last week, the app was released as an iOS version, quickly soaring to No. 1 on the App Store's category of newly released apps.
lollicam successfully positioned itself as a viral trend in the fast-growing, short-form video market, with its unique real-time editing features and entertaining content. The app helps users easily create videos and a cinemagraph-- a hybrid of photo and video.
What differentiates lollicam from conventional video creation or editing apps? The video editing happens in real time, allowing users to have videos ready to share when they finish recording. It's never been easier for users to create and edit fun and creative videos right from their mobile device simultaneously. This app is made possible by lollicam's face-recognition engine, often referred to as "the magic mirror" by its developers, that constantly analyzes and processes the user's face.
With more than 300 face-tracking stickers and VFX effects, users can spice up their daily videos with just a touch of a finger. lollicam users, therefore, can direct and produce their own Hollywood-style videos to easily capture their everyday lives in the most amusing and simplest ways.
On top of such features provided in the Android version, the newly introduced iOS version includes two new features: a dedicated Gif mode and enhanced sticker movement capabilities. The new Gif mode helps users create various forms of Gifs on their photographs, such as bursts and video type Gifs. Second, stickers can now follow the user's face vertically allowing the stickers to tilt when a user tilts his or her face.
lollicam also is easily shared on social media accounts like Instagram, Vine, and Facebook. While existing camera and video apps are limited in what they can record as it is, lollicam goes above and beyond what they can record by opening up a whole new paradigm of recording and sharing memorable moments.
Contact:
Michael Chong
CEO of Seerslab Inc.
mchong(at)seerslab(dot)com
About Seerslab Inc.
Located in Palo Alto, CA, Seerslab, Inc. is a mobile media service and technology company, consisting of professionals with extensive experience in global mobile service development and marketing. CEO, Michael Chong has led multiple global mobile projects for leading companies such as Samsung and SK Telecom. CTO, JC Kim has launched and operated Pudding Camera, a globally successful camera app initiating a "pre-processing concept" with more than 50 million downloads to date. Seerslab strives to be an active part in the future of creating, editing, and sharing of mobile videos.