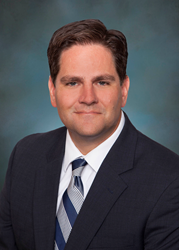 SAN DIEGO, Calif. (PRWEB) September 26, 2015
Lewis Roca Rothgerber LLP attorney Scott Brown is a featured speaker at the 2015 Farm Credit Council Attorney's Conference in San Diego.
A partner in the firm's bankruptcy practice group, Brown will present "Raiders of the In-House Ethics." As an attorney representing agricultural lenders in business transactions and solvency matters, his expertise includes loan origination and documentation, regulatory compliance, litigation in state and federal court, receiverships and bankruptcies.
"Be a true advisor," Brown says of working with clients. "Think like a business partner. Immerse yourself in your client's business and business aspirations. It may sound quaint, but it's what sets the good lawyers apart from everyone else."
With experience as in-house and outside counsel and a contributor to many legal publications, Brown also shares insights on working with commercial, agricultural and private lenders and other businesses in a broad array of transactions and litigation.
The Farm Credit System is a federally chartered network of borrower-owned lending institutions, comprised of cooperatives and related service organizations. It is the leading lender to U.S. farmers, ranchers and agricultural cooperatives, with 78 local, direct-lending associations, serving all 50 states and Puerto Rico.
The 2015 Farm Credit Council Attorney's Conference is being held Sept. 27-29 at the San Diego Marina Marriott Marquis in San Diego, Calif.
About Lewis Roca Rothgerber LLP
Lewis Roca Rothgerber offers legal and strategic industry experience to help clients realize business value, provide informed counsel on the issues that matter most. With more than 250 attorneys in eight cities across the western U.S., the firm assists organizations with a wide range of business matters including litigation and commercial transactions. Lewis Roca Rothgerber's lawyers practice in the areas of complex commercial litigation, finance, tax, insurance, intellectual property, regulatory, government relations, and labor and employment law. Learn more at lrrlaw.com.