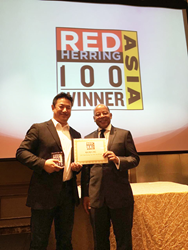 We are honored to receive this award as it has been a meaningful year for the Kick9 team and provides further encouragement.
Sunnyvale, Calif. (PRWEB) September 26, 2015
Mobile game publisher KICK9 Inc., was selected as the "Red Herring Asia 2015 Top 100 Enterprise" winners. The award was presented by well-known international business investment magazine "Red Herring (Red Herring)" in recognition of the leading private companies in Asia.
Red Herring 100 awards are widely recognized as one of the industry's more prestigious recognitions. The list has become a mark of distinction for up-and-coming entrepreneurs. Red Herring editors were among the first to recognize that companies such as Google, Facebook, Kakao, Twitter, Rakuten, Salesforce.com, Xiaomi and YouTube would change the way we live and work.
Red Herring's editorial staff evaluated the companies on both quantitative and qualitative criteria, such as financial performance, technology innovation, management quality, strategy, and market penetration. This assessment of potential is complemented by a review of the track record and standing of startups relative to their peers, allowing Red Herring to see past the "buzz" and make the list a valuable instrument of discovery and advocacy for the most promising new business models in Asia.
Kick9 was founded in March 2014 with the emphasis of global game distribution of mobile games, in supporting the cross publishing of mobile content between Asia and North America. Its platform DaaS (Distribution as a Service), containing innovative technology and business mode, greatly improves the efficiently of global mobile game distribution. The Kick9 team has successfully launched notable titles including "NBA All Net" and "Soul Hunters" in addition to other well-known IP games. Kick9 also secured a strategic alliance with Japan's largest media group Dentsu to provide IP licensing and cross-border digital marketing services for Chinese based game developers.
Being named "Red Herring 100 Asia," Kick9 founder and CEO Yong Wang said "we are honored to receive this award as it has been a meaningful year for the Kick9 team and provides further encouragement. Kick9 will adhere to the technical and innovative business models, and continue to provide maximum value to industry partners and mobile game users."
For more about KICK9 Inc., visit:
http://www.KICK9.com
Or Contact Us at:
information(at)KICK9(dot)com
About KICK9, Inc.
KICK9, Inc. is a leading mobile global game publisher of mobile digital content, headquartered in Sunnyvale California, with offices in Shanghai, China and Tokyo, Japan. Shareholders of KICK9 include DT Capital Partners. More information about the company and its products can be found at http://www.KICK9.com.
About Red Herring
Red Herring is a global media company, which unites the world's best high technology innovators, venture investors and business decision makers in a variety of forums, including print, online and exclusive events worldwide. Red Herring provides an insider's view and access to the global innovation economy, identifying new and innovative technology companies and entrepreneurs.
###
MEDIA CONTACT
Alfredo Rudas
KICK9, Inc.
pr(at)kick9(dot)com