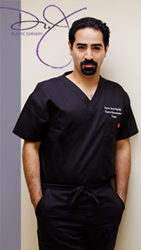 ....Prospective patients often tend to be relieved when they find out the actual expenses associated with getting a plastic surgery.
Beverly Hills, California (PRWEB) September 28, 2015
In a September 24 article on YouGov.us, the author juxtaposed the results of market research on the amount of plastic surgery actually obtained by Americans contrasted with the amount they might receive "if money were no object." The survey found that, while only seven percent of Americans say they have actually had a plastic surgery procedure, as many as 28 percent would get one under certain circumstances. Beverly Hills-based plastic surgeon Payam Jarrah-Nejad, M.D., F.I.C.S., F.A.C.S., known more casually to his patients as Dr. J, notes that the survey points out the reality that many patients wrongly assume that a plastic surgery is out of the reach of the average individual. He also suggests that, while the article doesn't bring up the matter of anti-plastic surgery stigma, negative concepts about plastic surgery might also be preventing patients from obtaining potentially very helpful procedures.

"People tend to overestimate the cost of plastic surgery" – Dr. J notes that prospective patients often tend to be relieved when they find out the actual expenses associated with getting a plastic surgery. That is because, he adds, they associate it with the famous and presumably very rich. In reality, Dr. J suggests that plastic surgeries – while rarely covered by medical insurance – are affordable to the large majority of motivated patients. Indeed, Dr. J notes that, in his experience, the issue of expense is almost never the deciding factor in whether or not a patient ultimately chooses to obtain a procedure.
"Stigma discourages many" – Dr. J notes that he has found numerous reasons why people who might otherwise wish to have a procedure might tend to indefinitely delay getting one. He notes that the fairly constant negative attention focused on celebrities who may or may not have received a breast augmentation or facelift procedure, for example, is an obvious factor. After all, Dr. J points out, people who want to feel more socially self-confident by improving their appearance might also obviously be influenced by the idea that their peers might think less of them if they actually did so. He also notes that he has heard would-be patients say they would get a procedure if they were "a different kind of person," meaning a performer or perhaps an extremely wealthy and well known person. In reality, he says, plastic surgery is for anyone who wants it.
Fortunately, notes Dr. J, the negative stigma surrounding plastic surgery is declining, and as plastic surgery becomes more common among ordinary individuals, the word is spreading that it is in no way out of the reach of people on relatively modest budgets. Dr. J also points that initial consultations for people interested in a procedure are provided without charge. To learn more, call Dr. J Plastic Surgery at 310-993-3800. Interested readers may also visit http://www.DrJPlasticSurgery.com, the doctor's web site or visit the Dr. J on Facebook.