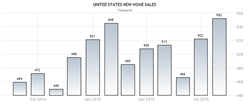 On Wednesday, weekly mortgage applications posted a huge 13.9% surge over the week prior
Chicago, IL (PRWEB) September 25, 2015
Overall lender,The Federal Savings Bank, viewed housing data positively for the week ending on Friday, September 25th. From existing home sales, to the FHFa's House Price Index, to mortgage applications, to new home sales, to mortgage rates, the week ended on a positive note.
Monday. September 21st
As shown on TradingEconoimcs.com, the week began with existing home sales posting a -4.8% for August, but seasonally, this was to be expected as housing enters its fall/winter slump.
Tuesday, September 22nd
The FHFA released its House Price Index on Tuesday showing a 0.6% increase month-over-month for July. This was the highest monthly increase for the index since February 2015. The home price index has now increased for 10 consecutive months.
Wednesday, September 23rd
On Wednesday, TradingEconomics.com showed that weekly mortgage applications posted a huge 13.9% surge over the week prior. This increase fought back against the previous two weeks of posted declines of -6.2% and -7%. The Federal Savings Bank will be paying close attention to any abnormally high mortgage application numbers this fall since it would indicate seasonal strength. With America's national unemployment rate near lows, The Federal Savings Bank expects a larger number of millennial home buyers to apply for home loans. This will only push home prices higher and eventually interest rates. Thus, The Federal Savings Bank thinks it's a good idea for all individuals intent of purchasing a property this fall/winter to at least apply for a mortgage and lock in a good rate now before purchasing a home may be less affordable.
Thursday, September 24th
On Thursday, the U.S. Census Bureau released their new home sales data for the month of August showing a 5.7% increase from July. This increased the annual pace of new home sales at 552,000, the highest reading since 2008. For reference, the highest annual pace of new home sales was in 2005 at 1.38 million, the lowest pace was in 2011 at just 270,000, thus there is plenty of room for improvement.
Whether customer, reality, or trusted referral source, The Federal Savings Bank understands how important every purchase or refinance transaction is to help our clients optimize the purchase or refinance of their home.