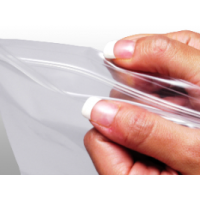 Plastic Bags Manufacturing & Packaging Suppliers
Ontario, CA (PRWEB) September 30, 2015
California based plastic bags manufacturing company, Universal Plastic today claimed that they have witnessed an increase in sales of zip lock bags over the past few months as the versatile bags are finding more use in kitchen as well as travel.
During their surveys and research, Universal Plastic found that people are making clever uses of zip lock bags which even their creators may never have imagined.
Some innovative uses of zip lock bags in kitchen aside from storing snacks:

Crushing food the non-messy way - Place cookies or nuts to be crushed in a zip lock bag and crush food in a very convenient way.
Mixing salad and dressing - It becomes easy and non-chaotic to toss salad in the strong zip lock bag.
Use it as a fennel - Cut a portion of zip lock bag and transferring liquid in bottles with narrow openings will be breeze and entirely non messy.
Freezing soup - Have limited space in a freezer? Stack soups or other dishes in the strong zip lock bags instead of bulky containers and save on precious space.
Storing jewellery - Keep silver jewelry or copper vessels shining new by storing them in zip lock bags.
Smart uses of zip lock bags while travelling:
Keep stuff handy during flights - Use a pocket size zip lock bag to store pills and cough drops or other stuff that may be needed handy during airplane flight.
Protect camera from rain - Carry zip lock bag to protect camera in case it rains.
Store small stuff - Use it to store handkerchief or other itsy bitsy stuff and when travelling just pack the bag. To make the bag really thin, let the air out.
"There are many more creative uses that people are making of these handy and affordable zip lock bags and as a result there is an evident increase in sales," says the Marketing Manager of Universal Plastic.
Universal Plastic makes high quality zip lock bags in different sizes. Their range of zip lock bags are designed to suit myriad needs of users. Some of the popular variety of zip lock bags include - freezer bags, seal top bag, stand-up pouch and performance bags.
About Universal Plastic
Universal Plastic is a leading manufacturer of plastic bags in the United States. Apart from zip lock bags, the company makes a whole host of plastic bags and packaging supplies for residential, commercial and industrial use.