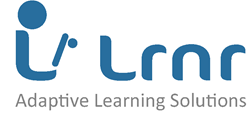 We are pleased our partnership with Lrnr is gaining traction. We believe Lrnr can provide services and resources that will enhance our open textbooks.
Vallejo, CA (PRWEB) September 27, 2015
Educational technology startup Lrnr Adaptive Learning Solutions (Pochys Ventures, Inc.) has commenced pilots at 12 universities and colleges for its personalized courses created using OpenStax college textbook content and high-quality assessment items. Last year, Lrnr signed a partnership with OpenStax to distribute OpenStax college textbooks on the Lrnr Adaptive Learning Platform where the content is then personalized for each student.
Lrnr enables content publishers like OpenStax to provide learning content that automatically adapts to all types of students, enabling them to learn more and achieve better outcomes. The Lrnr platform also provides actionable analytics that help instructors provide exactly the type of remediation each student needs.
Lrnr is a content-agnostic, cloud-based educational content delivery, personalization and analytics platform that integrates textbooks with intuitive personal learning tools, adaptive assessments, individualized learning paths and precise analytics to deliver personalized learning experiences that make studying and learning more efficient, effective and engaging.
More information about Lrnr is available on the company's website at http://www.lrnr.us.
OpenStax is a nonprofit organization committed to improving student access to quality learning materials. OpenStax's free textbooks are developed and peer-reviewed by educators to ensure they are readable, accurate and meet the scope and sequence requirements of introductory college courses.
More information about OpenStax is available on their website at http://www.openstaxcollege.org.
Personalized courses at an affordable price
"OpenStax's college textbooks have been adopted by instructors in more than 2,000 courses worldwide, so these pilots are the next logical step to further our commitment to offer low-cost personalized learning solutions for students and instructors," said Aravind Pochiraju, CEO of Lrnr. "The feedback and data collected from these pilots will be used to improve our offering and to help us better serve students and instructors."
Mr. Pochiraju added, "One of the biggest challenges for instructors and institutions is to reduce student costs and the one-size-fits-all approach to education adds to the pain. With traditional publisher textbook and home management solutions costing anywhere from $100 to $300 per course, it's a challenge for financially struggling students. Every semester, instructors and colleges are looking at new ways to reduce student costs while focusing on reducing the high attrition rates by trying low-cost alternatives without compromising on quality. We want to ensure that instructors and students who adopt OpenStax and other OER content do not need to compromise on high-quality tools and personalized learning. Our partnership with OpenStax and educators has enabled us to start building personalized courses with high-quality measurement tools that deliver measurably superior results. But what really excites us is the amazingly positive outcomes that personalized learning experiences make possible. Lrnr enables students to learn more, faster and easier, at their own pace and in their own individual way."
David Harris, editor in chief at OpenStax, said, "We are pleased our partnership with Lrnr is gaining traction. We believe Lrnr can provide services and resources that will enhance our open textbooks."
Six OpenStax textbooks are available on the Lrnr Adaptive Learning Platform; College Physics, Anatomy and Physiology, Concepts of Biology, Psychology, Principles of Economics and Introduction to Sociology 2e. Advantages of using OpenStax college textbooks on the Lrnr platform include personalization, interactive adaptive assessments and learning activities, analytics, assignments and grade book and support for instructor-contributed content.
OpenStax textbooks powered by Lrnr offer colleges and universities a compelling alternative to traditional textbooks. By providing a digital textbook that personalizes itself for each student and provides a wealth of actionable analytic data, faculty and instructors can help deliver better and more satisfying student outcomes.
Faculty and institutions interested in more information about using OpenStax textbooks with Lrnr should contact Lrnr by phone at 551-333-5505 or by e-mail at sales(at)pochys(dot)com
How it works
Lrnr works by constantly and invisibly collecting and analyzing enormous amounts of real-time data as each student interacts with digital content. Using a combination of cognitive analysis, artificial intelligence, machine learning and other advanced data science, Lrnr guides each student through a personalized learning process and orchestrates content and assessments optimized for each student's proficiency and competency.
About Lrnr Adaptive Learning Solutions
Lrnr is an enterprise-grade SaaS solution designed to reliably deliver courses and learning apps at scale. Its cloud-based architecture is optimized for mobility and high availability, and it works with virtually any kind of content. Lrnr can integrate with LMS (learning management systems) and other types of online learning and management systems. Lrnr runs in a web browser and in native apps for iOS and Android tablets where it even works offline.
# # #