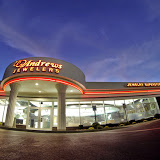 Nothing is more important to a local retailer's success than it's online product catalog.
Buffalo, NY (PRWEB) September 27, 2015
Andrews Jewelers has embraced the surge in digital consumption with the launch of a new ecommerce website and product catalog. Jeweler and retailer Andy Moquin states, "After 18 months of arduous development Andrews Jewelers officially launched it's newest website platform." Moquin founded Andrews Jewelers in 1995 and on the heels of it's 20th anniversary, has rolled out a responsive website with over 3500 products and 50,000 diamonds. Moquin says "The amount of research and media consumption taking place on smart devices can no longer be ignored, it's crucial that brick-and-mortar retailers bring their showrooms to their consumer's living rooms."
Google's most recent search algorithm has severely punished websites that aren't mobile friendly, resulting in double digit drops in traffic for many retailers. The popular consensus among SEO professionals is that responsive design, product videos, and lots of good imagery is the best way to combat this decline. Moquin suggests that the need for product videos and multiple product shots not only benefits rankings but more importantly adds a heightened consumer experience. Moquin adds "Experts agree that your website should be an extension of your showroom, site visitors need to be presented with the same treatment and selection that they would receive when visiting your physical location."
Online video consumption is growing exponentially and the implementation of product demonstration videos is critical to conversion rates. Locally owned retail locations must find a way to present their products in the most enticing way possible if they are going to drive local search to their physical showrooms. Moquin reports that Andrews Jewelers has filmed over 400 engagement rings in an effort to quench their customer's thirst for an up close and personal website experience." It was a monumental effort filming that many rings, jewelry photography is unbelievably difficult." Moquin believes that the long term benefit of such an effort is going to tremendous.
Other features of the new Andrews Jewelers website include an interactive loose diamond search, Disqus commenting integration, responsive design, and streamlined navigation. "The amount of features included on this most recent version of the website is too much to list, the staff is pleased to have this sales tool in their arsenal." states Moquin. The new website can be viewed by clicking here, additional features such as custom design will be added weekly.
About Andrews Jewelers, Inc.
Founded in 1995 by long time jeweler and designer Andy Moquin, Andrews Jewelers is located in Williamsville NY. The retailer's focus is to exceed the needs of today's sophisticated bridal consumer using over 26 years experience.
Media Inquiries:
Andy Moquin
President
Andrews Jewelers, Inc.
716-630-7091