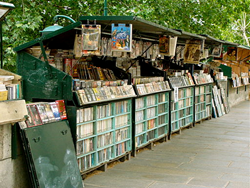 Left Bank Writers Retreat recommends booklovers start by browsing the 'bouquinistes.'
Denver, Colo. (PRWEB) September 28, 2015
So many books in Paris, so little time! The Left Bank Writers Retreat, a small-group writing workshop and literary tourism adventure held in Paris each summer has released a list of favorite Parisian places to search in a literary treasure hunt. Set to take place June 19-25, 2016, the Left Bank Writers Retreat experience counts bookstore browsing – including at the famous Shakespeare and Co. – in its writing-related lineup of Paris sights.
"On my used bookstore hunts, I've found a first edition of Beryl Markham's 'West with the Night,' an 1894 copy of Charles Dickens's 'Cricket on the Hearth,' and a 1963 galley of the Writers at Work series by the Paris Review that includes George Plimpton's interview of Ernest Hemingway," says Left Bank Writers Retreat founder and host Darla Worden.
Left Bank Writers Retreat recommends book lovers start by browsing the "bouquinistes," the used-book stalls that line the Seine. Hemingway was fond of one particular stall near the Tour d'Argent where he knew he could pick up English books abandoned by tourists who didn't want to lug them home in their suitcases, says Worden, who named her annual six-day writers' workshop for the now-famous writers who lived on Paris's Left Bank during the 1920s. Ernest Hemingway, Gertrude Stein, Ezra Pound, James Joyce and F. Scott Fitzgerald are some of the expats who wrote in Paris, congregating in the city's cafes and bars to share ideas. During the course of the June Left Bank Writers Retreat, participants experiment with many of the Left Bank writers' techniques.
Beyond the iconic green bookstalls, Paris boasts numerous great used bookstores throughout the city. Three favorites from past Left Bank Writers Retreats that Worden recommends for discovering literary gold include:
Shakespeare and Company Antiquarian Annex, 37 Rue de la Bucherie, Paris V, http://shakespeareandcompany.com/. The most famous bookstore in the world was founded across the Seine from Notre Dame Cathedral by George Whitman and is now run by his daughter, Sylvia Beach Whitman. Next to the main bookstore, rare and used books are available for sale in the store's Antiquarian Annex. You'll find first editions of books like Hemingway's 'The Sun Also Rises' and Fitzgerald's 'The Great Gatsby' on display in the window. "Out front of the store are used book bins not to be ignored," says Worden. "It was here I found the first edition of 'West with the Night.'"
San Francisco Book Company, 17 Rue Monsieur le Prince, Paris VI, http://www.sanfranciscobooksparis.com. Just around the corner from the location on Rue de l'Odeon of Sylvia Beach's original Shakespeare and Company, this bookstore has a huge selection of used books. For those who aren't ready to travel to Paris, current offerings for sale online include a hard-to-find copy of Hemingway's '88 Poems.'
The Abbey Bookshop, 29 Rue de la Parcheminerie, Paris V, abbeybookshop.wordpress.com. It can be hard to make your way through this crowded bookshop located on a small side street not far from Shakespeare and Company. "Books are stacked floor to ceiling, often in random order, but it's worth going through the stacks," says Worden. "I found the copy of Dickens in a stack in the corner on a rainy summer Paris day."
Open to all levels of writers, the six-day Left Bank Writers Retreat in Paris includes morning writing sessions, coaching and one-on-one time with the instructor for a maximum of eight writers, as well as lunch each day, admission to museums and area sights, a picnic on the banks of the Seine and a literary tour visiting many of the sites featured in the Woody Allen movie "Midnight in Paris." 2016 tuition for the retreat of $1,999 covers all expenses during the retreat each day (writers are responsible for their own airfare and lodging).
"The retreat allows writers to enjoy their time in Paris without worrying about a thing," says Worden. "I take care of reservations, buying tickets and passes and coordinating our transportation through the city—the only thing writers need to do is show up. Everything is arranged for them."
The retreat welcomes fiction and memoir writers, poets and playwrights. Applications for the June 2016 retreat and registration information are online at http://www.leftbankwritersworkshop.com/register.
Darla Worden is a writer and public relations professional who lives in Jackson, Wyo., Denver, Colo., and Paris. Worden has written widely for magazines and authored several books. She writes the popular blog Frenchophile and is currently working on a book about Hemingway's Paris.
About the Left Bank Writers Retreat:
Now in its seventh year, the Left Bank Writers Retreat takes place on the historic Île Saint-Louis in the heart of Paris. Writers arrange their own lodging and transportation to Paris. For additional information, visit http://www.leftbankwriters.com.
Media Contact: Darla Worden, WordenGroup Public Relations, darla(at)wordenpr(dot)com, 303.777.7667