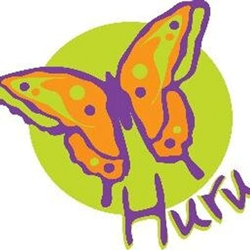 At Huru, we are working to ensure that at-risk African girls complete their education and safeguard their health.
New York, NY (PRWEB) September 27, 2015
During the 2015 Clinton Global Initiative (CGI) Annual Meeting, Huru International announced a Commitment to Action that will equip 500 rural Kenyan girls with the resources and information necessary to manage their periods and stay in school.
Millions of teenage African girls can't afford sanitary pads, causing them to miss school for several days each month during their menstrual cycles. In the best of cases, these girls fall behind academically. But in the worst instances, these absences result in girls dropping out of school entirely, perpetuating the cycle of gender inequality and poverty that persists on the continent.
"Education is the number one gender equalizer for African girls. Their academic success directly influences age of sexual debut; level of vulnerability to sexually transmitted infections, including HIV and AIDS; economic self-sufficiency; and, in the long-term, maternal and child health," says Lorna Macleod, Founder and Executive Director of Huru International.
"At Huru, we are working to ensure that at-risk African girls complete their education and safeguard their health."
Founded in 2008, Huru International has manufactured and distributed more than 1 million reusable sanitary pads to 110,000 girls in East Africa. These pads are bundled in Huru Kits that also contain HIV/AIDS prevention information and additional menstruation management resources. Recent evaluation data show that giving African girls a Huru Kit can reduce menstruation-related school absences by as much as 87 percent. The non-profit aims to produce 10 million pads during the next five years to help 1 million girls stay in school.
Through its 2015 Commitment to Action, Huru International will extend its work to the community of indigenous Ogiek people living in Nakuru County, Kenya. A forest-dwelling tribe, the Ogiek have been displaced from their ancestral lands. This has resulted in severe poverty, high rates of illiteracy and poor health outcomes within the Ogiek community.
"Working with CGI, and with the generous support of Micato Safaris, we are partnering with Kenya's Ministry of Education, Science and Technology and the Twapepea Development Foundation to distribute Huru Kits and provide life skills education for 500 Ogiek girls," said Macleod. "We are eager to extend Huru's reach to one of Kenya's most isolated communities and help its vulnerable girls stay in school."
To learn more about Huru International and partnership opportunities, please visit: http://www.huruinternational.org/
###
About the Clinton Global Initiative
Established in 2005 by President Bill Clinton, the Clinton Global Initiative (CGI), an initiative of the Clinton Foundation, convenes global leaders to create and implement solutions to the world's most pressing challenges. CGI Annual Meetings have brought together 190 sitting and former heads of state, more than 20 Nobel Prize laureates, and hundreds of leading CEOs, heads of foundations and NGOs, major philanthropists, and members of the media. To date, members of the CGI community have made more than 3,200 Commitments to Action, which have improved the lives of over 430 million people in more than 180 countries.
In addition to the Annual Meeting, CGI convenes CGI America, a meeting focused on collaborative solutions to economic recovery in the United States; and CGI University (CGI U), which brings together undergraduate and graduate students to address pressing challenges in their community or around the world. This year, CGI also convened CGI Middle East & Africa, which brought together leaders across sectors to take action on pressing social, economic, and environmental challenges.
About Huru International
Huru International was established to empower at-risk girls with the menstrual hygiene management resources and knowledge they need to stay in school during their menstrual cycle, complete their education and safeguard their health. Huru designed and produces a high-quality, reusable sanitary pad that is produced in Kenya and tailored for use in developing areas. These are distributed in "Huru Kits," a drawstring backpack containing: eight Huru pads, three pairs of underwear, detergent-grade soap, a re-sealable waterproof bag for storing soiled Huru pads and educational materials focused on sexual and reproductive health and HIV/AIDS prevention. Huru Kits are environmentally friendly and locally produced, creating new jobs in the girls' communities – a cost-effective, simple solution to a complicated problem.
To learn more about the work of Huru International, please visit http://www.huruinternational.org or follow @HuruKits on Twitter or @hurukits on Instagram.