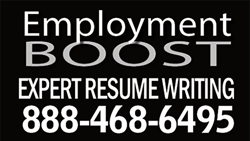 Whether you are actively job searching or simply looking to perfect your professional brand, there's a method in doing so
(PRWEB) September 28, 2015
As the weather cools down, Certified Resume Writers at Employment BOOST are just warming up. In lieu of the high-traffic career services season approaching around the corner, Employment BOOST has launched a new bundled service, "Modern Job Search Advice." In addition to the company's top-seller, the "Ultimate Resume Package," the Modern Job Search Advice service is appealing to the full-spectrum of clientele.
The Modern Job Search Advice offers dynamic and comprehensive career advice regarding LinkedIn, interview tips, job search suggestions, industry insider tips and solutions, exclusive access to hiring managers, tips on thank-you letters, and a complete complimentary thank-you letter service. For the limited time deal of $229, a job candidate gains access to learning this vast range of knowledge from professional resume writers and career services experts. The Employment BOOST team takes pride in implementing the most effective methods of marketing the candidate but also appealing to the recruiters and hiring managers.
Beginning with the complimentary resume evaluation, the Employment BOOST team implements a methodical approach throughout the entire process of the career services. It often begins with a request for a resume evaluation and then a free, customized resume report card is produced for all of the submissions. One-on-one consultation meetings or calls are scheduled with all new clients in order to effectively understand their career background and determine the job candidate's needs. "We've seen that the full-service approach has produced results for our clients. It has changed their outlook and improved their careers," said Kristin Scarth, Career Services Manager of Employment BOOST.
"It's not about a sale – it's about how we can educate our clients," says Kristin Scarth. "We get a variety of clients, from C-Suite all the way down to recent graduates, and they have questions about what they need to do to get started with their career or how to take their career to the next level. Whether you are actively job searching or simply looking to perfect your professional brand, there's a method in doing so, and we're here to share and educate our clients with our expertise."
Additional exclusive offers are available through the Employment BOOST website and by subscribing to the Employment BOOST newsletters that are inclusive of career tips, industry news, and limited time deals. Take the time to invest in your future and your professional brand. Seek professional consultation and expertise from the real experts; receive your complimentary resume evaluation or contact us today to get started on taking advantage of the Modern Job Search Advice package.
ABOUT EMPLOYMENT BOOST:
Employment BOOST is a Troy, Michigan and Chicago, Illinois based company that provides professional resume writing services and critiquing, executive resume services, cover letter development, career planning, social media profile creation, and interview coaching to job seekers across the nation. For more than a decade, Employment BOOST has consistently been helping people achieve career satisfaction. Employment BOOST uses talented industry experts to tailor resumes to the key content that hiring managers seek. For more information on Employment BOOST, please call 888-468-6495 or visit http://employmentboost.com.