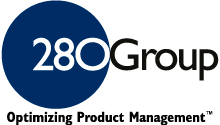 In an age when Product Managers are being heralded as 'mini-CEOs,' it is vital for the industry to gain a deeper understanding of the Product Management landscape.
Campbell, CA (PRWEB) October 06, 2015
Inconsistent processes, a lack of understanding in the C-suite, insufficient training—these are some of the challenges facing Product Managers today, according to a new study released this week. The result, according to findings, is that one in five products fail to meet customers' needs.
The unprecedented study, conducted by the 280 Group, the world's leading Product Management and Product Marketing services firm, reveals the most difficult challenges facing Product Management organizations throughout the world and presents critical actions to overcome them.
The 2015 Challenges in Product Management survey is one of the first to gather such extensive data from the Product Management community. The Product Management field is often misunderstood, carrying with it a distinct set of hurdles and challenges.
"In an age when Product Managers are being heralded as 'mini-CEOs', it is vital for the industry to gain a deeper understanding of the Product Management landscape," said Brian Lawley, founder and CEO of The 280 Group. "By surveying Product Management professionals and executives, the results of this study allow us to quantify the challenges in bringing their products to market and supporting them from creation to end-of-life, and better address the most urgent needs of Product Managers."
The study's key findings include:

Half of respondents are at companies where a consistent process is not used across teams.
Less than 30 percent of respondents indicated that their executive team completely understands what Product Management is and the value it provides to the company.
While respondents indicated that optimizing Product Management fully at their company would result in a large increase in profits, more than 60 percent indicated they have no plan for doing so.
These findings also reveal critical actions necessary for implementing successful Product Management and improving the tech industry as a whole. Some of these actions include:
Creating a comprehensive plan for optimizing Product Management at your company.
Creating a clear process that is used across your company that supports all of the development methodologies being used.
Educating your executives on the strategic role of Product Management and the benefits that excellent Product Management will bring to their own parts of the organization.
"By creating and implementing a plan that includes all of the study's suggested elements, organizations will see dramatic improvements in the effectiveness of their Product Management function, resulting in a significant increase in revenues and profits," said Lawley.
The Challenges in Product Management survey was taken by more than 800 product managers and product management executives this past spring. To download the complete survey results, go here: Challenges in Product Management Survey Results.
About Brian Lawley and the 280 Group
Brian Lawley is recognized as a thought-leader and authority on Product Management and Product Marketing. He is the CEO and Founder of the 280 Group, which helps individuals and companies do great Product Management. Lawley is author of five best-selling Product Management books and one of the creators of the Optimal Product Process™. He is also the former President of the Silicon Valley Product Management Association, was awarded the AIPMM Award for Thought Leadership in Product Management, and has been featured on World Business Review and the Silicon Valley Business Report.