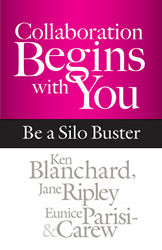 None of us is as smart as all of us. When people recognize their own mistaken beliefs about collaboration and work to change them, silos are broken down, failures are turned into successes, and extraordinary results can be achieved at every level
ESCONDIDO, Calif. (PRWEB) October 12, 2015
In today's diverse, globalized workforce, collaboration is crucial to success. So why do organizations have such a difficult time putting it into practice? It's because everyone thinks collaboration is someone else's job—and if something goes wrong, it's the fault of "the other guy."
In their groundbreaking new book, leadership expert Ken Blanchard and coauthors Jane Ripley and Eunice Parisi-Carew turn this concept of collaboration on its head. Collaboration Begins with You: Be a Silo Buster, released today, uses bestselling author Blanchard's signature business parable style to show that if collaboration is to succeed it must begin with you—not someone else. The book is available now at Amazon.com and Hudson Booksellers.
Research has shown that organizations often lack the collaborative qualities needed to successfully tackle challenging projects, making it difficult for some groups to work together. In this environment, people are less likely to help others complete tasks or freely share information. Collaboration Begins with You teaches people at all levels—from new associates to top executives—that it's up to each of us to promote a culture of collaboration.
"Collaboration is often tough to implement, because when challenges arise most people believe the problem is caused by someone else. This book shows how using your heart, head, and hands will enable you to create a culture of collaboration," says Blanchard, cofounder of global leadership training and consulting firm The Ken Blanchard Companies®.
The book introduces a model that empowers readers to promote collaboration in their own workplace. This process contains five elements that are necessary for a collaborative culture: utilizing differences; nurturing safety and trust; involving others in crafting a clear purpose, values, and goals; talking openly; and empowering yourself and others. These elements originate within the three domains of collaboration—the heart (character and intentions), the head (beliefs and attitudes), and the hands (actions and behaviors).
"Innovative silo-busting and creative contributions from the whole team can come together as a formula for success," says Ripley. "When silos fall, the result is higher morale and productivity, increased innovation, and a better bottom line."
"None of us is as smart as all of us. When people recognize their own mistaken beliefs about collaboration and work to change them, silos are broken down and extraordinary results can be achieved," adds Parisi-Carew.
Collaboration Begins with You is an entertaining parable that follows the journey of division head Dave Oakman, tapped to lead a project team at struggling Cobalt, Inc. Riddled with silos and self-serving managers, Cobalt has become a place where talented new hires arrive, experience the toxic culture, and move on to greener pastures. Through the guidance of a family visitor, Dave is able to turn his company around by creating an openly collaborative culture using a five-part process, which Dave dubs the UNITE model.
The book includes an assessment tool that allows readers to examine their strengths as a collaborative leader or individual contributor. The tool can be modified easily for assessing work groups, departments, and whole organizations.
Advance praise for Collaboration Begins with You:
"Collaboration Begins with You provides a simple, memorable, and—most important of all—actionable model for destroying the barriers that prevent organizations from getting things done."
—Patrick Lencioni, president, The Table Group, and author of The Five Dysfunctions of a Team and The Advantage
"Creating a safe and trusting environment as a collaborator is the core of success—removing fear and taking people to a place of freedom. You will find the steps to success in Collaboration Begins with You!
—Garry Ridge, president and CEO, WD-40 Company, and coauthor of Helping People Win at Work
"Collaboration Begins with You strips down the fluff and gets to the essence of how any organization can create a collaborative mindset for the greater good."
—Jesse Lyn Stoner, founder, Seapoint Center for Collaborative Leadership, and coauthor of Full Steam Ahead!
Published by Berrett-Koehler, Collaboration Begins with You is available at Amazon and Hudson Booksellers. For more information, including a sample chapter, details on the authors, advanced praise, press coverage, and purchasing information, visit http://www.collaborationbeginswithyou.com.
About the Authors
Ken Blanchard, a world renowned leadership expert, has coauthored more than 60 books including The New One Minute Manager®. He is the co-founder of The Ken Blanchard Companies, a leadership training and consulting firm.
Jane Ripley is co-founder of WiredLeaders.com, a leadership development company focusing on collaboration. In 2012, Jane did extensive research on the topic of collaboration toward her master's dissertation.
Eunice Parisi-Carew is senior researcher for The Ken Blanchard Companies who focuses on teams. She has coauthored three bestselling books: The One Minute Manager Builds High Performing Teams, High Five!, and Leading at a Higher Level.
Collaboration Begins with You: Be a Silo Buster
By Ken Blanchard, Jane Ripley, and Eunice Parisi-Carew
October 2015
Hardcover $23.95; 168 pages