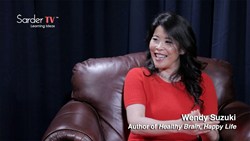 "Dr. Wendy Suzuki shows us how we can be healthier and more productive in our work," said Russell Sarder, CEO of NetCom Learning and creator of Sarder TV.
New York, New York (PRWEB) September 29, 2015
Dr. Wendy Suzuki, world-renowned neuroscientist and Professor of Neural Science and Psychology at New York University, recently provided Sarder TV, the independent media learning channel with an exclusive interview. Speaking with Vaishali Jain, Sarder TV correspondent, Dr. Suzuki talks about how exercise has transformed her life, something she wrote about in her book, Healthy Brain, Happy Life: A Personal Program to Activate Your Brain and Do Everything Better. In the interview, Dr. Suzuki explains how she came to understand the importance of exercise and why she has chosen to focus her research on brain function and the relationship to exercise.
"Dr. Wendy Suzuki shows us how we can be healthier and more productive in our work," said Russell Sarder, CEO of NetCom Learning and creator of Sarder TV.
"It is with great pleasure that we are able to add this exclusive and important interview to our Sarder TV video library," said Sarder.
At the age of 40, Wendy Suzuki decided she needed to revamp her life. Professionally successful, she was also overweight, a workaholic and lonely. A commitment to an exercise class left her feeling much better and with more energy, and as a neuroscientist, Suzuki decided to analyze the correlation of exercise to brain function. The Sarder TV interview provides viewers with an insight into why exercise works to improve cognitive function, mood, memory and energy levels. Dr. Suzuki also provides an overview of the continuing research she is conducting on exercise and the brain. Wendy Suzuki has a degree in Physiology and Human Anatomy from the University of California at Berkeley, and a Ph.D in Neuroscience from the University of California at San Diego. She also completed a post-doctoral fellowship at the National Institutes of Health. Dr. Suzuki has received numerous awards for her research including the Troland Research Award from the National Academy of Sciences, and the Lindsley Prize from the Society for Neuroscience.
Sarder TV offers stimulating, educational and candid interviews so that new entrepreneurs and aspiring business people can learn from them. The database is part of the international Learning Movement created by Russell Sarder to help spread knowledge and inspire a passion for lifelong learning. Operating on the premise that motivated individuals can learn from the experience, the success and the mistakes of others, Sarder TV provides a unique opportunity to see and hear influential personalities talk about the subjects that matter to them. Some of the past interviewees have included Ira Neimark, former CEO of Bergdorf Goodman, Susan Davis, CEO of BRAC USA, and Dan Hoffman, President and CEO of M5
Don't miss this fascinating and stimulating interview with Dr. Wendy Suzuki at Sarder TV by clicking here.
Sarder TV seeking additional leaders for interviews
Sarder TV is also seeking leaders to interview and is targeting leaders from Fortune 500 companies, and exceptional public figures like Bill Clinton, Oprah Winfrey, Jim Collins, Bill Gates, Warren Buffet and many more. According to the National Venture Capital Association, more than 30 percent to $600 million this year has been invested in Web-based education. For investors seeking an opportunity to participate in a multimillion dollar idea, Sarder TV presents an excellent investment and is actively seeking investors. Several investors have already expressed an interest in this innovative idea. Investors interested in becoming a part of Sarder TV are invited to get in touch as well, contact us at russellsarder@netcomlearning.com.
Sarder TV is a learning channel that contains a series of exclusive educational interview videos from top leaders in their industries, as well as motivational videos encouraging our public to succeed in their personal and professional lives, and many more. Russell Sarder, CEO of Sarder TV, has interviewed a series of leaders, who have shared their experiences and how they were able to achieve their success. Some of the names that Sarder has interviewed are: Ira Neimark, former CEO of Bergdorf Goodman; Russ Edelman, co-author of Nice Guys Can Get the Corner Office, Dan Hoffman, and David Hershfield, SVP Online Technology at RedCats.
NetCom Learning is an award-winning global leader in managed learning services, training, and talent develop- ment. Since 1998, we've been in the business of helping organizations reach optimal performance results and address challenges by managing all aspects of organizational learning. We believe that an organization's ability to learn — and translate that learning into rapid action — is the ultimate competitive advantage.