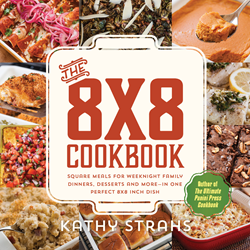 Strahs elevates the simple 8x8-inch square baking dish into a dinnertime secret weapon for busy families.
Los Gatos, Calif. (PRWEB) September 30, 2015
Cookbook author, food blogger, photographer and entrepreneur Kathy Strahs was intrigued by the business side of publishing she experienced with her first cookbook, The Ultimate Panini Press Cookbook (Harvard Common Press, 2013). Two years later, the Stanford Business School alum has founded her own publishing company, Burnt Cheese Press, written and photographed her second cookbook, The 8x8 Cookbook: Square Meals for Weeknight Family Dinners, Desserts and More—In One Perfect 8x8-inch Dish, and today launches a month-long crowdfunding campaign on Kickstarter at 9:00 a.m. PDT.
With The 8x8 Cookbook, Strahs elevates the simple 8x8-inch square baking dish into a dinnertime secret weapon for busy families. Beyond the usual brownies and casseroles, the passionate force behind the blogs Panini Happy and Cooking on the Side has created 64 modern "square meals": easy weeknight one-dish meals such as Honey-Glazed Chicken with Root Vegetables, Sunday dinner recipes like Spinach-Pesto Lasagna, tasty recipes for sides such as Chard Apple Stuffing that would make a nice addition to the Thanksgiving table, brunch fare including Orange Custard French Toast, and Croissant Bread Pudding with Espresso Butterscotch Sauce for dessert.
"I've turned to my 8x8-inch dish so many times over the years—it's the perfect size for a family of four or six, and recipes double easily to fit a 13x9-inch dish for a larger crowd," says Strahs. "I'm excited to show readers all they can make with this versatile dish that they probably already own."
Strahs aims to raise $20,000 to launch The 8x8 Cookbook through a Kickstarter.com campaign, live September 30 to October 29. Campaign backers will receive many delicious rewards, from first edition autographed copies of The 8x8 Cookbook to adorable "How to Make Mac 'n Cheese" graphic tees for kids (designed by Strahs' 7-year-old daughter) to the opportunity to create custom keepsake cookbooks, featuring backers' own family recipes professionally edited, photographed and designed by Burnt Cheese Press.
Available in December, just in time for holiday gifts, The 8x8 Cookbook is filled with helpful cooking tips and full-color photographs. All of the recipes were tested by a dedicated team of 35 home cooks. For more information about The 8x8 Cookbook, please visit the Kickstarter campaign at http://www.8x8cookbook.com/kickstarter.
About Kathy Strahs
Kathy Strahs is an author (The Ultimate Panini Press Cookbook and The 8x8 Cookbook), food blogger (Panini Happy and Cooking on the Side), and founder of Burnt Cheese Press, LLC. Her innovative recipes and mouthwatering food photography have been featured on the websites of The New York Times, The Washington Post, PBS, The Huffington Post, Saveur and TLC, in Pillsbury Magazine, San Diego Family Magazine, the Associated Press and highlighted in The Wall Street Journal. She lives with her husband and their two children in the Silicon Valley.
About Burnt Cheese Press, LLC
Established in 2015, Burnt Cheese Press takes a fresh approach to food-related publishing, exploring new topics, giving voice to new creators, and connecting with food enthusiasts via new and emerging channels. Find Burnt Cheese Press on the web at http://www.burntcheesepress.com, on Instagram at http://www.instagram.com/burntcheesepress and on Facebook at http://www.facebook.com/burntcheesepress.