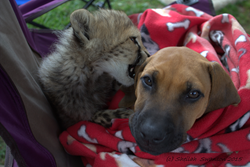 We're very grateful there are so many cheetah fans in the Greater Portland community. - Dr. Laurie Marker, Cheetah Conservation Fund
Portland, Ore. (PRWEB) September 28, 2015
Members of the Oregon Chapter of Cheetah Conservation Fund (CCF) and their four-legged allies are rallying to save Africa's most endangered big cat Oct. 4 with their 15th annual gala fundraiser, Big Cat. Big Party. Held at the Oregon Zoo, the African Safari-flavored event attracts big cat lovers from all over the Greater Portland area for an evening of cheetah-centric fun, with a goal of raising money to support CCF programs in Namibia. Portland State University adjunct professor David Bell will serve as Master of Ceremonies, while CCF Founder and Executive Director Dr. Laurie Marker will be the honored guest speaker. Tickets are $150 per person and can be purchased at http://www.ccforegon.org.
This year, guests have the chance to meet a pair of local celebrities, Pancake and Dayo, a seven-month old cheetah cub and her best friend, a Rhodesian Ridgeback puppy who, coincidentally, shares Pancake's birthday. The wildly popular animal ambassador duo from Wildlife Safari have been invited by the Oregon Chapter to help draw attention to CCF's Livestock Guarding Dog Program, which pairs dogs with farmers to protect livestock and saves cheetah lives.
Tickets for Big Cat.Big Party. include an elegant dinner and opportunities to bid on big-ticket luxury items through silent and live auctions featuring fine art, wildlife experiences and adventure travel. Returning for its second year is Portland's Fools in Paradise, a six-piece African marimba band, to provide the evening's entertainment. Also back again for its second year is Cheetah Adoption Headquarters. Guests "adopt" a purring, stuffed cheetah named after one of the cheetahs living in CCF's cheetah sanctuary and receive twice-yearly updates on their real-life counterparts. Everyone who adopts is entered into the Cheetah Adoption Grand Raffle, and prior to the start of the live auction, a winner is drawn who receives a prize of almost any live auction item of their choice.
Big Cat. Big Party. Dinner Committee members are Howard Hedinger, American Industries; Colleen Sorensen, Java Jacket; Dylan Lee, Wieden + Kennedy; Teresa Sullivan, Mango African Safaris; Gary Rygmyr; Lyle Spiesschaert; and Laura and Sarah Harris.
"We're very grateful there are so many fans of the cheetah here. This year also marks CCF's 25th anniversary, and sustaining our programs this long would not be possible without the support of this community, which has exceptionally generous members," said Dr. Marker.
Dr. Marker is considered to be one of the world's leading experts on the cheetah, earning numerous awards for her work conserving the species. On Oct. 2, Dr. Marker will accept the Edward O. Wilson Biodiversity Technology Pioneer Award from Montana State University and the American Computer Museum, and on Oct. 18, Dr. Marker will receive the Eleanor Roosevelt Val-Kill Medal Award from the Eleanor Roosevelt Center in Hyde Park, New York.
###