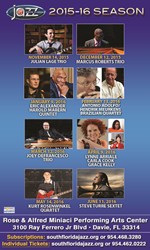 We are very excited about this season's line-up of world-class Jazz articles. We look forward to bringing these amazing artists to South Florida.
Fort Lauderdale, FL (PRWEB) September 28, 2015
South Florida JAZZ, the principal purveyors of modern jazz, proudly announces its upcoming season schedule. All performances will be held at the Rose & Alfred Miniaci Performing Arts Center, 3100 Ray Ferrero, Jr Blvd on the Nova Southeastern University campus in Davie.
Under the aegis of Artistic Director Ron Weber and Artistic Advisor Gary Burton, this lineup is among the strongest in the organization's history. It features both veteran and rising stars all of whom have attained international recognition. It should be an extraordinary season.
Subscriptions to the eight-concert series can be purchased from the Broward Center box office at 954-462-0222, ext. 3 or online at http://www.southfloridajazz.org. Individual concerts go on sale August 1 via http://www.southfloridajazz.org or by calling 954.462.0222, ext. 1.
The 2015-16 Concert Schedule
Performances commence at 8:00 p.m.
November 14, 2015 - JULIAN LAGE TRIO
He was a guitar prodigy at eight, then protégé of Gary Burton at age 11. Since then Julian Lage has become the freshest, most compelling and charismatic face of jazz guitar since Pat Metheny. He finished second in the DownBeat 63rd Annual Critics Poll.
December 12, 2015 - MARCUS ROBERTS TRIO
A major force in jazz piano since age 21, Marcus Roberts has won the Thelonious Monk Piano Competition, a National Academy of Achievement award, and the Helen Keller Award. He is an American treasure.
January 9, 2016 - ERIC ALEXANDER & HAROLD MABERN QUINTET
A unique saxophone voice always accessible to audiences, Eric Alexander teams with his mentor, pianist Harold Mabern, and trumpet star Jeremy Pelt to play jazz in that swinging and melodic way, just as it was intended.
February 13, 2016 - ANTONIO ADOLFO/HENDRIK MEURKENS BRAZILIAN QUARTET
Decades of immersion in Brazilian jazz make vibes/harmonica virtuoso Meurkens the perfect fit for the immaculate arranging and phrasing of pianist Adolfo, no stranger to SFJ audiences.
March 12, 2016 - JOEY DEFRANCESCO TRIO
He wins every reader and critics poll for a reason – he's the best! Joey DeFrancesco is the reigning king of the Hammond B3 organ – plus he sings and plays trumpet with his newest trio.
April 9, 2016 - LYNNE ARRIALE – CARLA COOK – GRACE KELLY QUINTET
"You Know How I Feel – The Music of Nina Simone, Abbey Lincoln and Joni Mitchell"
Virtuosic pianist Arriale; saxophone prodigy - and vocalist - Kelly; and blues-drenched singer Cook created this unique project to celebrate Great Women in Music. They certainly have accomplished their goal.
May 14, 2016 - KURT ROSENWINKEL QUARTET
One of the most important jazz guitarists in the world, Rosenwinkel brings a unique approach to composition and interplay with magnificent sidemen: pianist Aaron Parks, bassist Eric Revis and drummer Allen Menard.
June 11, 2016 - STEVE TURRE SEXTET: "The Bones of Art" (Blakey)
The band features a three-trombone frontline in this thrilling tribute to legendary hard bop drummer and bandleader Art Blakey and The Jazz Messengers of which Turre is a proud alumnus.
Funding for this organization is provided in part by the Broward Cultural Division