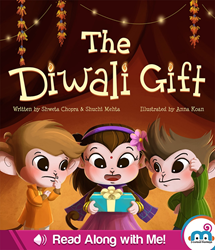 San Francisco, California (PRWEB) September 29, 2015
Introducing, 3 Curious Monkeys, an award-winning startup founded by Shweta Chopra and Shuchi Mehta that creates products to teach young children about Indian culture. The highly anticipated book, The Diwali Gift, is now available on Amazon.com.
The Diwali Gift is beautifully illustrated and introduces young children to the most important holiday in India and celebrated by over 1.4 billion people worldwide. The book offers a uniquely fresh perspective on the holiday by focusing on family rituals as three sweet monkeys guide readers through fun and relatable explanations and experiences. Ultimately, the Diwali Gift aims to inspire and encourage children to be proud of their heritage.
"We searched far and wide looking for preschool-aged products that would help us teach our children about the beauty of India and about our cultures. We couldn't find what we were looking for so we decided that it was our responsibility to help bridge the gap," said Shuchi Mehta, Co-Founder of 3 Curious Monkeys. "The Diwali Gift is a book we're so proud to have written and we are thrilled that so many children have already enjoyed it."
Given that only 10% of mainstream educational products are targeted at young minority Americans, The Diwali Gift aims to offer children the opportunity to see themselves and their peers in mainstream literature.
Pricing and Availability
The Diwali Gift is available now on Amazon.com for $16.99.
About
3 Curious Monkeys develops books and apps that bring Indian culture closer to young kids through fun characters that encourage them to see, hear and learn more about their roots. As a company, 3 Curious Monkeys aims to provide the third largest minority in the United States a way to preserve their culture and help pass it on to future generations.