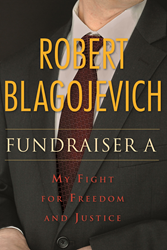 If you think you're innocent until proven guilty, think again
DALLAS, TEXAS (PRWEB) September 29, 2015
Most people will recognize the name Robert Blagojevich as the brother of ill-fated Illinois governor Rod Blagojevich. But many don't know why Robert came to work for his brother or how he came to be named as a defendant in the criminal trial accusing Rod of attempting to sell Barack Obama's former Senate seat to the highest bidder after the presidential election of 2008.
Now, Robert offers a brutally honest inside look at what it is like to face the full force and power of the federal government and maintain innocence in a high-profile criminal case.
With the release of his new book "Fundraiser A: My Fight for Freedom and Justice" (Northern Illinois University Press), Robert reveals a previously untold story of a fascinating trial with well-known, colorful characters that captured the attention of the nation, but also a look at a universal relationship—brothers—as well as the theme of a David ordinary citizen facing the Goliath federal government.
He reveals the plight of a businessman idealistically entering the world of political fundraising and finance, while maintaining his ethics and principles, and being unfortunately caught up in a storm that challenged his integrity. Why Robert agreed to step into a campaign already known to be under investigation is another judgment for the reader to make.
"Fundraiser A" invites readers to an eye-opening look inside the true story of an innocent man being arrested, fingerprinted, arraigned, and tried for a crime he did not commit. Robert's visual narrative offers in-depth insight into what it is really like to experience a walk through the criminal justice system.
"You enter the Dirksen Federal Building in downtown Chicago, pass through security, get on an elevator, and exit on the twenty-fifth floor. You run a gauntlet of US marshals, newspaper reporters, and television sketch artists, and then enter a side door into a conference room outside the courtroom," says Robert. "While you wait to be called to the courtroom, you move to the floor-to-ceiling windows and look to the plaza below. You wish you were of the people down there going about your "normal" business––because for the last four months nothing in your life has been normal."
For the last four months of 2008, Robert was, at his brother's request, the head of Rod's fundraising operation, Friends of Blagojevich. When Rod asked Robert to help him fundraise—because he couldn't trust anyone else in the role—Robert agreed to help on two conditions: they had to get along, and Robert would not participate in any wrongdoing.
In the rough-and-tumble world of Chicago-style politics, operating on an ethical level was not easy. Robert often had to tell potential donors that there was no quid pro quo for a contribution: giving money did not result in state contracts and certainly didn't result in an appointment to fill a vacant Senate seat.
Though he was innocent of any corruption, Robert has stated,"[i]f they have an agenda to get you as, in the United States government and its U.S. attorney, they will find a way." For Robert, it meant being subjected to wire tapping and eavesdropping that continued despite it readily becoming apparent that he was an ethical person. "They take random snippets of conversations and make a federal case out of it."
"Robert was surprisingly naive about the FBI, the federal prosecutors, and the criminal justice system. It never crossed his mind that the feds might attempt to use him, to make him flip and testify against his brother. It never occurred to him that nobody in the government really cared that he was innocent. This was a case too big for that," says Leonard L. Cavise, Professor of Law, DePaul College of Law. "Luckily, Robert found the right criminal defense lawyer who told him, in no uncertain terms, that this trial is not about "clearing anything up." It's a war, led by "self-righteous, zealot extremists," and, Robert, you're in it."
As he notes in his trial journal, "As a citizen, I can't believe this still is happening to me, and no one in power cares––unchecked unrestricted power." Robert ultimately prevailed at trial while his brother did not.
Five years ago the charges against Robert were dropped but the damage could not be undone. "Fundraiser A" sounds a warning bell and a reminder that Americans must be vigilant in protecting their civil liberties and hold their public officials accountable.
To learn more, visit: http://www.robertblagojevich.com
Books are available online and in bookstores.
About the author
Robert Blagojevich was born and raised in Chicago and received his MA in Eastern European studies and economics. After leaving active duty with the US Army, he continued in the US Army Reserves while working in the financial services industry. Robert is currently a small business owner in Nashville, Tennessee.
###