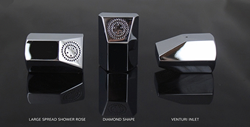 Invest a couple of hundred dollars and get a return on investment of at least 100% in one year. Invest the same in a bank and you get what they decide to pay you.
Byron bay NSW Australia (PRWEB) September 29, 2015
With the recent warnings that California will run out of water within the year, Richard West, an Aussie inventor, believes he has a solution. And if any country knows about water saving, it's Australia, where residents cling to a green verge of a predominantly desert continent.
Not only that, Australians have just emerged from their own worst drought in history.
With CA residents now subject to unprecedented severe water restrictions, a crisis is unfolding. It's the 'perfect storm' of long term drought, low snow cover in the mountains, Californian's traditionally unfettered water consumption, and ongoing high agricultural demands. Not only that, now scientists are predicting a 'mega drought' over most of the southwestern USA.
Richard West is the inventor of the e-Shower. It is the first water saving shower head that provides a 'full flow' feel. Turned one at a time from solid brass, the 2" long e-Shower relies on 200 year-old science to deliver nanobubbles of water, giving the experience of a normal, enjoyable, strong shower.
In a recent interview, Richard said "Most people have mortgages, and if they are lucky, they are able to pay them every month. So it's possible to see the drought as an investment opportunity! Where else can one invest a couple of hundred dollars and get a return on investment of at least 100% in one year.
Investing the same in a bank only ever gives what they decide to pay. The Aussie drought finally made people think about reducing energy, and reducing water,The good news is they can do all that and reduce the outgoings in water and power bills. Money not spent never leaves home!"
Richard's e-Shower is already field tested. He's even installed them in a large army base in a hard water area of outback Australia with very hard (calcium) water, and with zero calcium build-up problems.
It is inspired by two men: 19th Century Italian physicist Giovanni Battista Venturi, and Victor Schauberger, scientist and developer of energized water theory. A recent article on Treehugger, (link at bottom of page) said that "one big plus for the e-Shower is that it is designed to fit virtually any shower pipe, and can be installed in just minutes, with no plumber or technical know-how needed. The other is that it claims to not be affected by calcification or clogging due to hard water (something that is said to be an issue for other water-saving showerheads), and it comes with an unprecedented 30-year guarantee."
"The challenge was to bring their ideas into the 21st Century," said Richard. "but that was much easier on paper than in practice!"
A recent scientific study supports Richard's 'hunch' about why his e-Shower never clogged up with calcium. It showed that water like Richard's highly agitated water converted 'sticky' dissolved calcium that normally clogs shower filters into a form called 'aragonite' which not only does not accrete, but also wears away existing calcium deposits.
"It's a win-win," says Richard. "It's taken us many years of repetitive fitting and turning solid metal to get what we wanted for the perfect water saving shower spray," says Richard. "It has no O-rings or baffles. They inevitably wear out or clog. I give a 30-year warranty because there's nothing in e-Shower that can ever fail. It's an old fashioned 'solid state' device!
Water is the most precious resource on the planet, yet huge amounts are wasted everyday. If water was money..would anyone waste it the same way? It would be invested, and that's exactly what Richard is all about.
Richard's own summary:
"e-Shower's design philosophy was to recreate the feeling of a full flow shower in a water saving system. Australian customers from all walks of life - home, commercial, institutional - tell us we have achieved this target.
The real secret to e-Shower is 'Wetter' Water. In any other shower system most of the water that hits the skin bounces off. In an e-Shower the air bubble covered in water 'pops' on impact and the water stays on the skin.
It's all about the effective use of water. I believe we've set a new bench mark for this industry."
A KickStarter campaign has been set up so that Richard can raise the funds to start manufacturing and delivering the e-Shower in the USA. Visit http://kck.st/1NjFOSJ
Link to Scientific study on the calcium reduction effect
http://www.alkaway.com.au/wp-content/uploads/Reduced-calcium-carbonate-scaling-through-turbulent-physical-cond1.pdf
Link to Press kit Images
http://eshower.net/media-kit/
Link to published story:
http://www.treehugger.com/gadgets/two-new-entries-smart-shower-head-market-claim-huge-water-savings.html
End.