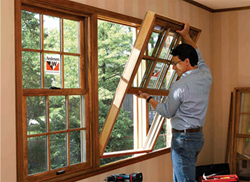 Roof repairs are critical to saving a home's heating bill in the winter
Chicago, IL (PRWEB) September 28, 2015
The Federal Savings Bank knows that fall brings a number of preventative maintenance home repair projects. These repairs are important and may grow into larger problems if ignored.
The following ideas and tips are compiled by The Federal Savings Bank to get any fall housing projects underway smoothly
Lawn Care
As the color of the leaves change, raking leaves and aerating the lawn will serve to prevent grass and garden beds from suffocating. In addition, as stated on BHG.com"fertilizing and winterizing grass, trees, and shrubs will allow your greenery to enter its winter slumber comfortably and properly nourished." If too busy to work on the lawn, consider hiring a professional lawn care service, the process will be quick and easy and give comfort that the job is done.
Windows
Window replacements are probably the most important fall housing repair. Replacing cracked or old windows is critical to a warm home in the winter and can add extra light. In addition to the windows, one must also inspect to see if there is proper insulation for window seal gaps.
Roof Repair
Roof repairs are critical to saving a home's heating bill in the winter. If a roof has a crack, snow and ice will only make it worse and cause and awful chill in the home. Any crack noticed in the roof should be dealt with immediately.
If unsure how to pay for the above listed repairs, The Federal Savings Bank suggests that a great way to finance the remodeling of a home is with a home equity line of credit (HELC). Whether customer, reality, or trusted referral source, The Federal Savings Bank understands how important every purchase or refinance transaction is to helping its clients optimize the purchase or refinance of their home at – for more information visit - TheFederalSavingsBank.com.