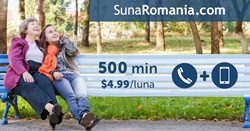 Atlanta, Georgia (PRWEB) September 30, 2015
If they are curious to find out how to spend wisely $4.99 or $9.99, Romanian expats may find their answer on SunaRomania.com website: they may use the money to buy 500 or 1000 minutes to call any landline or mobile in Romania.
Why is it so affordable to call Romania with SunaRomania.com? Because the rate decreased from $7.49 to $4.99 per month for the Romania 500 monthly plan and from $14.99 to $9.99 for Romania 1000 monthly plan. This means that Romanians living abroad may call their friends and family still living back home in Romania with only 1 ¢/min. The monthly plans offered by SunaRomania.com are monthly subscriptions that renew automatically once every 30 days.
In case they are not calling that often, Romanians may use the Voice Credit service SunaRomania.com offers: only 1.5 ¢/min to call any landline in Romania or 3.9 ¢/min to call any mobile in Romania. This way, they may use the prepaid credit anytime, the balance does not have an expiration date. For only $10, customers get either 665 minutes to call landlines, or 256 minutes to call mobiles. Or they may call both, it's entirely up to them.
SunaRomania.com's mission is to bring Romanians closer together, no matter where they live. Another service the website offers is international mobile recharge, allowing customers to top up mobiles in Romania. Orange, Vodafone and Telekom operators are available.
Customers may also use the Virtual Number service, a monthly subscription allowing all Romanian expats living abroad feel closer to home and receive calls from Romania on their own phone for only $9.99 per month.
So, SunaRomania.com offers its customers various services they may use to stay connected to all the great people they left in Romania and whom they still miss: "I found out about Sunaromania.com from a friend about 7-8 years and never used a single calling card to call home since! I rarely have any dropped calls or problems with the connection. Great experience all around. Plus, the fact that my parents can call me anytime on my cell and they pay only a local rate gives me and them great peace of mind that they can always reach me quickly in case of an emergency. [...]" - SunaRomania.com customer, on TrustPilot.com
About SunaRomania.com
SunaRomania.com is an interactive website designed by KeepCalling, a global telecommunications company registered in 2002 in USA. Presently, KeepCalling provides its services to hundreds of thousands of consumers and businesses, with a focus on customer satisfaction. KeepCalling has been listed by Inc 5000 as one of the fastest growing companies in the USA for 5 consecutive years. In 2015 the company registered a revenue increase of over 200% from 2011 to 2014.