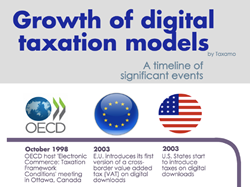 While it has been in the pipeline for a number of years, the introduction of digital taxation has exploded in 2015.
Co. Kerry, Ireland (PRWEB UK) 29 September 2015
In less than 48 hours, Japan will become the 36th country to introduce new 'place of supply' tax rules on digital service sales or 'digital downloads'. These new consumption-based tax rules will apply to cross-border digital services provided by overseas businesses to the Japanese market. To illustrate the evolution of international digital taxation, Taxamo, a digital tax compliance solution, have released ​an infographic highlighting the timeline of significant events.
INFOGRAPHIC: Growth of digital taxation models, a timeline of significant events.
Unlike similar EU VAT rules (in effect since January 1, 2015), Japan has opted to introduce a minimum threshold. Businesses with a taxable turnover over ¥10,000,000 ($80,000) in Japan will be subject to the new tax rules.
'While it has been in the pipeline for a number of years, the introduction of digital taxation has exploded in 2015,' said John McCarthy, Taxamo CEO. 'With further moves by the OECD to encourage the adoption of this type of digital taxation, we see these numbers increasing even further in the months and years ahead. Taxamo has a full pipeline of product development focused exclusively at meeting the requirements of incoming legislation.'
The E.U. has led the way in digital taxation, introducing place of consumption VAT rules for non-EU merchants selling into Europe back in 2003. Within Europe, Norway introduced extended rule changes in 2011 and have reaped the benefits. At a recent Fiscalis meeting of EU finance ministers in Dublin, the Norwegian tax authority reported revenues of €283.5m since its 'VAT on E-Services' (VOES) scheme began.
With such revenue potential for global tax authorities, the rapid evolution of international digital taxation models is not set to stop with Japan. New Zealand and Australia have already announced plans to introduce similar rules in 2016 and 2017 respectively. In addition China, Singapore, Turkey, Israel, Brazil and India have all discussed plans to impose tax on digital service sales.
About Taxamo
Taxamo's digital tax solution enables digital service merchants to comply with new international tax regulations. It's one simple integration meets all requirements on tax calculation, reporting and invoicing and offers merchants a simple, cost effective and reliable way to comply. Taxamo launched with an EU VAT solution in January 2015 and has since expanded to support U.S. sales & use tax and Japanese consumption tax (JCT). Support for additional regions will follow in-line with the introduction of international digital tax laws.