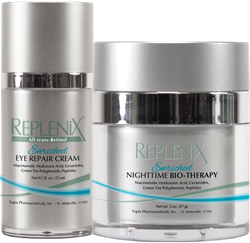 These enriched creams have demonstrated dramatic improvements in skin hydration and overall appearance, with outstanding patient compliance.
NORTH AMITYVILLE, NY (PRWEB) October 26, 2015
Topix Pharmaceuticals, Inc. has introduced two revolutionary formulations in age defying skin care - Replenix® Enriched Nighttime Bio-Therapy and All-trans-Retinol Enriched Eye Repair Cream, featuring the latest technology in hydration and skin renewal.
Capitalizing on breakthrough advancements which improve the efficacy of hyaluronic acid, these luxurious formulas contain various molecular forms of this powerful hydrator – hydrolyzed which penetrates the skin for maximum absorption, and high molecular weight to seal the moisture in. "As we age our skin is prone to dryness and loss of elasticity," explains Steve Hernandez, Vice President of Research and Development at Topix. "The hydrolyzed hyaluronic acid acts as a sponge to bring moisture in and hold it there, ultimately improving moisture retention, and plumping and softening skin for a younger appearance."
Topix is proud to feature Niacinamide in the Enriched night cream and retinol eye cream formulas, an advanced ingredient which supports a more collagen rich appearance, leaving skin smoother and tighter with less visible fine lines and wrinkles. Niacinamide also helps to brighten areas of pigmentation and even out skin texture and tone.
Delivering essential moisture to the delicate skin around the eyes, Replenix All-trans-Retinol Enriched Eye Repair Cream helps to smooth fine lines and wrinkles, and minimize dark circles and puffiness. Featuring a powerful system of proven ingredients to send those eye bags packing:

Peptide/Ceramide Complex: (including five next generation peptides) helps support the skin barrier, nourishes and tightens skin
Caffeine USP: Helps to wake tired eyes, reducing the appearance of bags and discoloration
Arnica and Vitamin K: Work synergistically to improve the suppleness of skin, helping to reduce the appearance of dark circles, puffiness and fine lines
Replenix Enriched Nighttime Bio-Therapy works with the body's natural nightly repair process to combat dryness and premature skin aging, nourishing skin back to optimum health. High performance ingredients work synergistically to repair the skin barrier function:

Biomimetic ceramide complex: Mimics ceramides found naturally in skin to help prevent trans-epidermal water loss (TEWL), improving skin elasticity and texture
Tetrapeptide-21: Complements the skin's nightly renewal and metabolic functions targeting wrinkles and improving the overall appearance and tone of skin
Apple stem cells: Deliver essential nutrient benefits to promote firmness and elasticity
Rich in emollients to help soften skin and a powerful blend of antioxidants including Green Tea Polyphenols - a signature of the Replenix brand, these formulas are paraben, oil, gluten and fragrance-free. Ideal for all skin types, including the most sensitive.
"Based on the tremendous success of core Topix formulations along with the recent technologies available, our physician partners expressed a desire to expand their offering with an added level of hydration." said Joseph Ragosta, Vice President of Sales at Topix. "These enriched creams have demonstrated dramatic improvements in skin hydration and overall appearance, with outstanding patient compliance."
For more information, please visit http://www.topixpharm.com or call 1-800-445-2595.