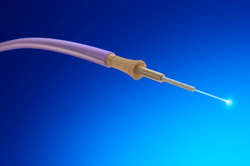 Our customers value a fiber product that can survive the rigors of installation
Pleinfeld, Germany (PRWEB) September 29, 2015
W. L. Gore & Associates (Gore) introduces GORE® Aerospace Fiber Optic Cables to meet the civil aerospace industry's need for reliable high-speed data transmission cables in a durable, lightweight construction. Engineered with a unique dual-buffering system, GORE® Aerospace Fiber Optic Cables withstand the challenging environments they encounter throughout an aircraft's service life. These cables deliver excellent signal integrity for high-speed data transmission in wide temperature ranges.
GORE® Aerospace Fiber Optic Cables have a robust construction that is smaller and lighter weight for improved installation. These cables are highly flexible with a tight bend radius for easy routing in confined spaces of an aircraft. They resist crushing, kinking, and abrasion while providing reliable signal integrity before and after installation. "Our customers value a fiber product that can survive the rigors of installation," said Jeremy Moore, Applications Engineer. With an exceptional balance of properties, GORE® Aerospace Fiber Optic Cables are the choice of engineers when they need additional durability without sacrificing size or weight.
GORE® Aerospace Fiber Optic Cables complement Gore's wide Aerospace product offerings including, high performance quads, Cat5E, Cat6A, USB3.1, HDMI 2.0 and high frequency GORE® Microwave cables.
Typical applications for GORE® Aerospace Fiber Optic Cables include avionics networks, digital video systems, cabin management systems, flight management systems, Ethernet backbone, transceivers, weather radar systems, and in-flight entertainment and connectivity (IFEC) systems.
GORE® Aerospace Fiber Optic Cables will be on display at APEX (Airline Passenger Experience Association) Expo in Portland, Oregon on September 28 through October 1, Booth 328. For more information about GORE® Aerospace Fiber Optic Cables, visit gore.com/electronics, or contact a Gore applications specialist at electronics.usa(at)wlgore(dot)com.
About W. L. Gore & Associates, Inc.
Gore is a technology-driven company focused on discovery and product innovation. Well known for waterproof, breathable GORE-TEX® fabric, the company's portfolio includes everything from high-performance fabrics and implantable medical devices to industrial manufacturing components and aerospace electronics. Founded in 1958 and headquartered in Newark, Del., Gore posts annual sales of more than $3.2 billion and employs approximately 10,000 associates with manufacturing facilities in the United States, Germany, the United Kingdom, Japan and China, and sales offices around the world. Gore is one of a select few companies to appear on all of the U.S. "100 Best Companies to Work For" lists since the rankings debuted in 1984. The company also appears regularly on similar lists around the world. Learn more at gore.com.
# # #