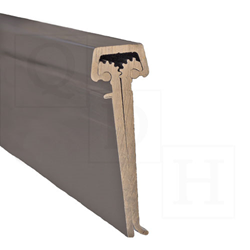 Continuous geared hinges provide a high degree of security for exterior openings or restricted spaces by sealing the common gap between the door and frame, thus providing security against prying. - Jeffrey N. Dinardo, Sr
West Babylon, New York (PRWEB) September 29, 2015
Quality Door & Hardware, Inc. is proud to announce another addition to its quality featured products for September, 2015; the Pemko Continuous Geared Hinge - Model CFM and Model CFS lines. These superior quality continuous geared hinges provide a high degree of security for exterior openings or restricted spaces by sealing the common gap between the door and frame, thus providing security against prying. Also, these continuous geared hinges act as effective reinforcement for both the door and the frame.
The Pemko Continuous Geared Hinge consists of two full-height, paired and inter-meshing geared leaves. Each geared leaf rotates evenly from top to bottom riding on wear resistant Delrin-Teflon bearings. Held together by a full-length channel cap the assembly easily supports heavy vertical loads uniformly across door and frame. Typical alignment problems such as door sag and binding are eliminated and only 1/2 lb. or less of operating force is required to operate most doors, which makes continuous geared hinges ideal for doors used by the physically challenged.
Pemko Model CFM hinges are designed mainly for new door applications and are applied to conceal both leaves. Pemko Model CFS hinges are designed mainly for retrofit applications and are applied to exposed surfaces of the door and frame. Both of these fine Pemko Models are available in a variety of lengths.
Quality Door & Hardware carries a full line of Pemko Continuous Geared Hinges at competitive prices, so you can be assured of the right solution to your door hardware needs at just the right price. Visit us at http://www.QualityDoor.com to take a closer look at the Pemko Continuous Geared Hing and at all of the other quality products we feature at everyday competitive prices. Of course, by choosing Quality Door as your source for commercial door hardware, you will always be assured of our unparalleled customer service. Jeffrey N. Dinardo, Sr., the owner of Quality Door & Hardware, Inc. for more than 25 years, invites you to visit us soon and see for yourself "the difference that 'Quality' can make in your business".